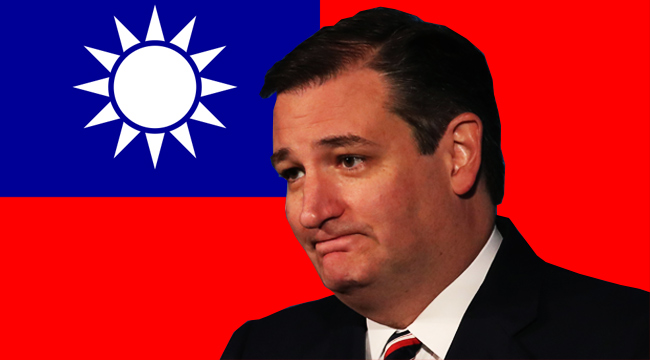 Donald Trump made international headlines in December when his actions threatened to topple diplomatic relations between the United States and China. The first hit came with the president-elect's planned phone call with Taiwanese President Tsai Ying-wen, while the second concerned China's seizure of a U.S. Navy drone in international waters. Both instances provoked direct responses from the Chinese government, in which they rebuked Trump's words and actions while criticizing the outgoing administration's apparent inability to rein in its elected successor.
Of the two, Trump's involvement with Taiwan over China's objections may have spurred Ying-wen's decision make at least two stopovers in the U.S., which included an unlikely meeting with former Republican presidential candidate Ted Cruz (now a Trump ally) on Sunday. According to The Guardian, both Cruz and Texas Governor Greg Abbott met with the Taiwanese president and issued subsequent statements praising the visiting politician and lauding their hopes for whatever positive effects "economic cooperation" between the U.S. and her country may have for the state.
Unlike Abbott's more peaceable statement, however, Cruz's brought up a "curious letter" the Houston delegation received from the Chinese consulate regarding the visit and the possible diplomatic consequences therein:
"Shortly before our meeting, the Houston congressional delegation received a curious letter from the Chinese consulate asking members of Congress not to meet with President Tsai, and to uphold the 'One-China policy'.

"The People's Republic of China needs to understand that in America we make decisions about meeting with visitors for ourselves. This is not about the PRC. This is about the U.S. relationship with Taiwan, an ally we are legally bound to defend. The Chinese do not give us veto power over those with whom they meet. We will continue to meet with anyone, including the Taiwanese, as we see fit."

In response to the Sunday meetings, Chinese Foreign Ministry spokesperson Lu Kang reached out to "relevant U.S. officials" to handle the matter appropriately and swiftly. "We firmly oppose leaders of the Taiwan region, on the so-called basis of a transit visit, having any form of contact with U.S. officials and engaging in activities that interfere with and damage China-U.S. relations," Lu said on Monday.
Meanwhile, both Abbott and Cruz tweeted photos of their sit-downs with Ying-wen on Sunday — sparking an almost immediate response from the Chinese tabloid Global Times, which warned the country would "take revenge":
(Via The Guardian and Reuters)