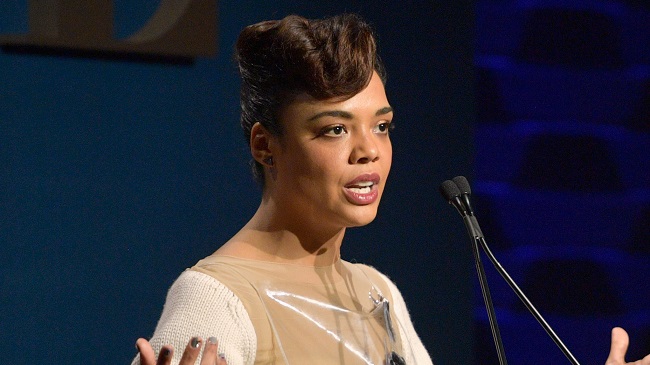 On Tuesday, Tessa Thompson (Thor: Ragnarok, Creed) issued a statement on Twitter clarifying her previous criticism of Lena Dunham (Girls) over a seemingly random appearance at a Time's Up photo op on Sunday. According to Thompson, "A response I made to comments on an Instagram became fodder for a piece that I believe was designed to create conflict where there isn't any." What's more, Thompson insisted, she did not "want to diminish Lena Dunham and her work, her voice, and her importance. We have spoken and she knows my heart." So what happened, exactly?
According to Entertainment Weekly, the issue stems from an Instagram post Thompson made on Sunday that has since been deleted. The original post featured an image of Dunham, Michelle Williams, Reese Witherspoon, Rashida Jones, Tracee Ellis Ross, and Emma Stone — all major actresses who pledged their time and money to the Time's Up initiative. Yet Dunham's presence in the photo enraged Thompson's followers, many of whom pointed to the Girls star's prior defense of writer Murray Miller, who was accused of sexually assaulted a minor. Dunham has since apologized, but her critics remain unhappy.
Responding to these comments, Thompson claimed "Lena was not anywhere present" during the planning of Time's Up:
"Lena was not anywhere present in our group during the countless hours of work for the last two months. We hosted an open house for the actresses for red carpet messaging and Lena presence was a surprise to us all. This is a time of reckoning. And for many, a re-education. So many women also have real work to do. I'm afraid it's too nuanced a conversation to have on this platform. But I hear you, and know that your thoughts and words are not lost on me. It's been discussed."

In a subsequent statement to Indiewire, Dunham said she "was honored to be invited to the meeting by a close friend and to observe the work that these amazing women have been doing the past few months." The Girls star noted she was unable to participate in the initiative's planning stages for "highly personal reasons," but applauded the effort and Thompson's "artistry" and "consistent candor."
Even so, many prominent activists and commentators aren't too happy about Thompson's apology to Dunham. As a point of clarification, however, they aren't necessarily unhappy with Thompson but with the apparent need for an apology in the first place.
(Via Entertainment Weekly and Indiewire)