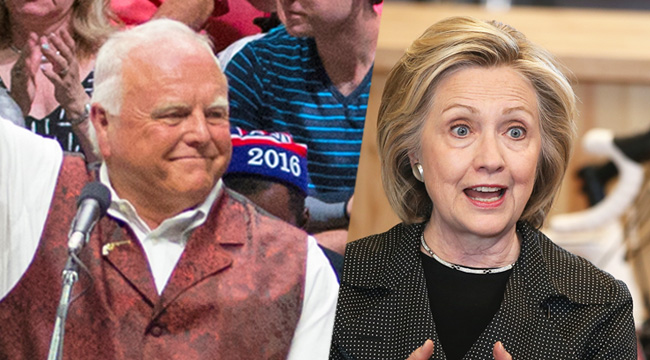 Texas State Agriculture Commissioner and Trump supporter Sid Miller (seen above at an Austin rally) may have been a bad boy on Twitter. On Tuesday, he (or somebody) apparently decided to get "political" and ended up calling Hillary Clinton the C-word while discussing Pennsylvania poll results. The tweet rapidly disappeared, but the Internet preserved it for posterity.
The account in question is not verified. However, the flurry of actions that quickly took place (along with the fact that Miller's website points to the account) proves that it is indeed his Twitter home. According to the Texas Tribune, Texas Governor Greg Abbott (who is not the most sensitive guy) reprimanded Miller: "No true Texas gentleman would ever talk this way."
Then Miller's account tweeted, "@MillerForTexas HAS BEEN HACKED. The disgusting re-tweet has been removed and we have changed all account passwords. Be advised." This is messy, but it gets worse.
Speaking to mySA.com, Miller insisted he had no idea what was going on: "You can tell by reading it it's not something I sent out. I hadn't read it." His communication director, Mark Loeffler, then claimed the account was hacked. Yet Miller told a different story to the Tribune while claiming a staffer was indiscriminately retweeting things and did not see the C-word. Notice that the top screenshot does not reflect a retweet but an ordinary old tweet.
Soon, some explanatory tweets — including the retweet excuse and an apology for the "vulgar" word — quickly surfaced on the account.
This has been the latest edition of Politicians Gone Wild on Twitter. Good day.
(Via mySA.com & Texas Tribune)