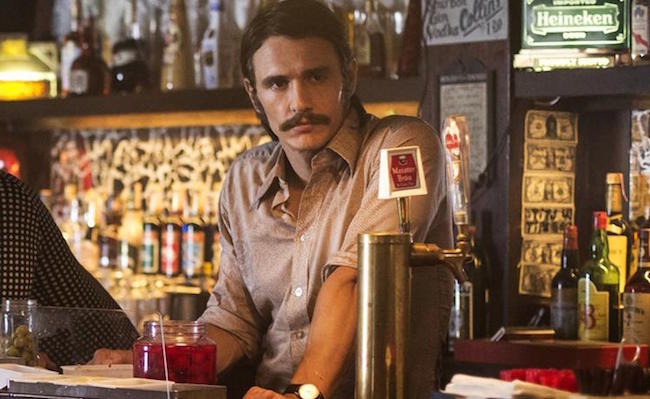 James Franco's Golden Globes victory may have placed the actor under the spotlight on Sunday, but the win also nudged the numerous allegations of sexual misconduct facing him under the public microscope immediately after. His talk show circuit victory lap has featured serious questions about his alleged actions and a scheduled The Disaster Artist event featuring Franco was canceled in the fallout. It's with that backdrop that HBO has confirmed a second season of The Deuce (in which Franco stars as twins Vincent Martino and Frankie Martino and has executive producer and director credits too) will be going ahead.
Deadline reports The Deuce is continuing production as scheduled with their sources reporting that Franco's characters are being included in the season 2 scripts.
Both HBO and The Deuce co-creator David Simon have responded to the allegations facing Franco by stating that they have not encountered or heard of any inappropriate behavior during his work with The Deuce.
"I'm still reading it the same as everyone else, trying to discern what is or isn't there," said Simon via statement. "Personally I can only speak knowledgeably to The Deuce. I've checked with all my fellow producers and other personnel. We have no complainant or complaint or any awareness of any incident of concern involving Mr. Franco. Nor has HBO been approached with any complaint. In our experience, he was entirely professional as an actor, director, and producer."
"We have verified that no complaints about Mr. Franco have come in on The Deuce production," stated HBO.
In his appearances on the Late Show with Stephen Colbert and Late Night with Seth Meyers, Franco has attempted to address the claims against him. As Franco's behavior undergoes further scrutiny, so to will HBO's approach to the issue going forward.
(Via Deadline)