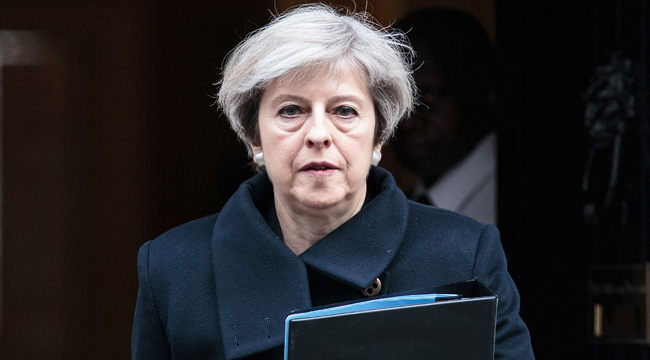 British investigators were still sorting through the evidence left behind by an improvised bomb attack on the London tube this morning when President Trump hopped on Twitter to effectively declare that he had cracked the case. The POTUS called the perpetrators "loser terrorists" and implied that they were radicalized Muslims. Theresa May clapped back, slamming Trump for speculating and hindering the investigation by jumping to conclusions. Here's what she said about Trump piping up before Scotland Yard could finish their investigation:
"I never think it's helpful for anybody to speculate on what is an ongoing investigation. The police and the security services are obviously doing all the work to discover the full circumstances of this cowardly attack."
Trump had implied that the U.K. has been soft on terror and that Scotland Yard could have prevented the attack but let the perpetrator slip through their fingers. "Another attack in London by a loser terrorist," he tweeted. "These are sick and demented people who were in the sights of Scotland Yard. Must be proactive!" It's not clear why the President assumed that or what inspired the surety of his comments.
Conservative politician Ben Howelett had even stronger words for Trump's meddling. "It is highly unhelpful/dangerous and inappropriate for an ally to make announcements that share intelligence and undermine investigations," he snapped. He also retweeted David Wright of CNN, who was sharing the perspective of London police on the President's "unhelpful" speculation.
Telegraph columnist Nick Timothy also rebuked President Trump's wild leap. "True or not — and I'm sure he doesn't know — this is so unhelpful from leader of our ally and intelligence partner," he tweeted.
For the most part, however, British leadership has stayed quiet about Trump's brash remarks. Top brass including Amber Rudd and Jeremy Corbyn, have been busier thanking first responders for their swift reaction and convening with cabinet members to discuss intelligence and evidence. After all, it's the U.K. way to maintain a stiff upper lip and roll up one's sleeves to do what needs to be done. As conservative MEP Daniel Hannan pointed out, "London is not passive in the face of terrorism, my overseas friends. It is stoical, as during the Blitz. There's a difference."
(Via: BBC, Independent & Telegraph)