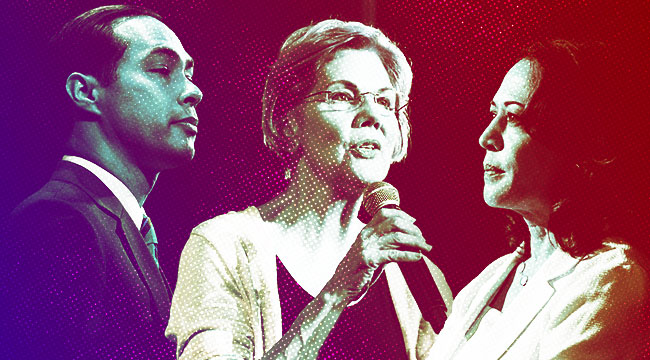 Another day, another Democratic debate. The third debate is only weeks away, shortly thereafter to be followed by the fourth, fifth, and sixth debates. So many debates. So much time before November 2020.
As we inch ever closer to the 2020 presidential election, the field of candidates for the Democratic nomination has started to thin out—relatively speaking. Eric Swalwell and John Hickenlooper announced they were dropping out a few weeks ago, Jay Inslee announced on Wednesday, August 21 that he's also dropping out to instead pursue another term as governor, and Seth Moulton dropped out on Friday, August 23. But it's still a crowded race with at least 21 candidates in the running and only five and a half months left until the primaries kick off in Iowa.
If you haven't locked in your opinions yet, the debates are the most viable way for you to get to know the field. Here's everything you need to know.
When does the debate take place?
The third Democratic debate is officially scheduled to be held at Texas Southern University in Houston, Texas on Thursday, September 12th and possibly also Friday the 13th. (Spooky.) Right now, 10 candidates qualify — the maximum number allowed on one stage, per DNC rules — so if even one more candidate qualifies for the debate by the August 28 deadline, the event will be split into two nights.
You can watch it anywhere.
Seriously, you can watch it anywhere you have data or wifi. The debate will be co-hosted by ABC and Univision, which will provide a Spanish translation. You can also stream it online at ABC News Live, or on Hulu Live, The Roku Channel, or Facebook watch.
Other options: Apple TV, Twitter, and YouTube.

There are still 21 candidates in the race, but there will be far fewer on the stage, thanks to stringent qualifications.
Don't worry. This won't be like the first two debates, which were full-up two nights in a row — a veritable circus of cross-talk and would-be gotcha moments.
To qualify for the upcoming debate, candidates have to meet two criteria: they need to reach at least 2% support in four DNC-qualified polls, and they need donations from at least 130,000 unique donors — an attempt to create campaigns that are more grassroots-oriented. Right now, 10 candidates have qualified, which is the maximum number of people allowed on one stage.
Here's who will be debating:
Joe Biden
Cory Booker
Pete Buttigieg
Julián Castro
Kamala Harris
Amy Klobuchar
Beto O'Rourke
Bernie Sanders
Elizabeth Warren
Andrew Yang
Two other candidates are extremely close to qualifying: Congresswoman Tulsi Gabbard and billionaire entrepreneur Tom Steyer. Gabbard has hit the donor threshold, but has only registered at more than 2 percent in two certified polls — and her team is fighting to have the qualifications for poll certifications changed. And Steyer, according to Vanity Fair, has acquired "not just 130,000 donors, but register[ed] in three polls at or above the 2% threshold" which means he's one poll away from qualifying for the stage. They have until August 28 to qualify and turn the debate into a two-night event. If that happens, ABC will hold a random draw on August 29 to determine who will debate each night.
What will they cover?
There's no set topic for the debates, but we can guess at least a few issues that will be addressed based on what we know so far. The venue — Texas Southern University — is a public, historically black college, so there will likely be questions about criminal justice reform and structural racism. And again, given the location in Texas and the fact that one of the moderators is Univision anchor Jorge Ramos, immigration will likely be a hot topic. Finally, as no fewer than five candidates have released policies related to gun violence in the last month alone, gun control will likely be touched upon throughout the night. Of course, these topics are also interrelated and fresh on everyone's minds, due in large part to the recent El Paso terrorist attack, which targeted Latinx people in the Texas border town.
This post will update as more information becomes available.