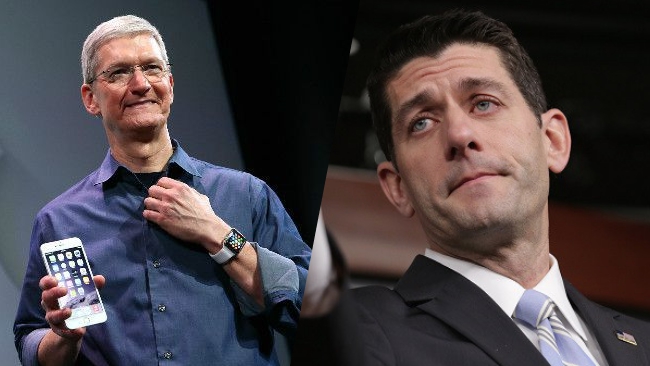 Apple's Tim Cook may not be a big fan of Donald Trump's distasteful comments on "women, immigrants, and minorities," — so much so that the tech giant decided to pull funds and free Macbooks from this year's Republican National Convention in July — but that doesn't mean the company's CEO has anything against other Republicans. Cook and Apple treasurer Gary Wipfler plan to host a private fundraiser for House Speaker Paul Ryan on June 28 in Menlo Park, Calif., according to an invitation received by Politico on Monday.
The money raised during the breakfast will help benefit Ryan and a joint fundraising committee whose aim is to help elect other House Republicans. Cook is solely hosting the fundraiser because Apple does not have a corporate political action committee like other major tech companies.
Apple's late CEO, Steve Jobs previously had a disdain for politics, according to Politico, but Cook plans to improve the company's relationship with Democrats and Republicans. In the past, Cook donated to President Obama's first presidential run and he met with Republicans in May 2015 during a trip to Washington.
Trump's campaign has yet to comment on Apple's lack of support during the RNC. The Republican frontrunner previously called for a boycott of the tech company following Apple's refusal to unlock the San Bernardino shooter's iPhone back in February.
(Via Politico)