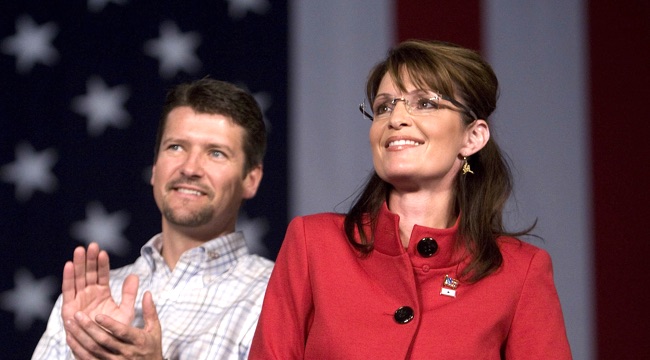 Former Alaska Governor Sarah Palin has been largely absent from Donald Trump's side after her coveted January endorsement, which left many people wondering whether she'd eventually become his vice presidential nominee. Palin then appeared at some eventful rallies, but faded into the background once Trump captured the support of New Jersey Governor Chris Christie. Another wrinkle in the Trump-Palin dynamic occurred when Trump failed to win the Alaska caucus. Some folks presumed that Palin's duty was finished, but that isn't the case.
Palin was scheduled to appear with Trump on Monday for a Florida event, but she pulled out due to a personal emergency. Palin flew back to Alaska after her husband, Todd, suffered a serious snowmobile accident on Sunday. Todd remains in intensive care, and Trump released a statement:
"Todd Palin was in a bad snow machine accident last night and is currently hospitalized. Governor Palin is returning to Alaska to be with her husband and looks forward to being back on the campaign trail soon. Mr. Trump's thoughts and prayers are with the Palin family at this time."
No further details on Todd Palin's condition are available at this time. Sarah was scheduled to speak with Trump at noon, but wishes her friend luck in the Tuesday primaries.