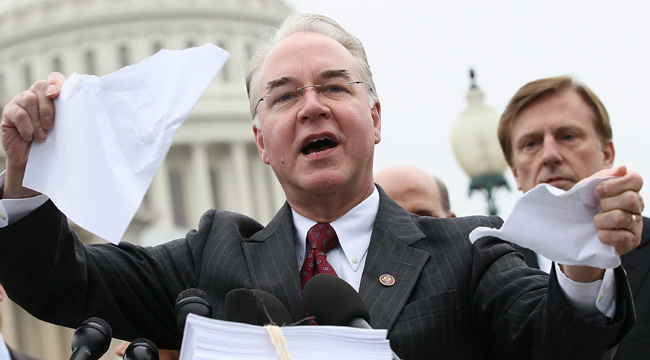 Before the Affordable Care Act, women paid more for health insurance than men, to the tune of $1 billion more per year, according to one study. That gap was forced closed by the ACA, much to the relief of women everywhere, but Tom Price, Trump's Secretary for Health and Human Services, wants to open it back up again.
Poring over the rather dense collection of questions and written responses Price offered to the Senate, Modern Healthcare popped out one in particular from Ron Wyden, who asked Price point-blank if he thought women and men should pay the same premiums. Price's response?
The setting of premiums is something that has historically been a matter of state law and regulation, so that the dynamics of that state and its population and risk pool and consumer behavior can be taken into account. Nevertheless, of course, if confirmed as HHS Secretary, my role would be to implement the law as it is now written.
It's worth noting that perhaps Price doesn't quite grasp the exact issue, here. The practice in question, called "gender rating," came about because women live longer, go to the doctor more regularly, and have babies. Granted, men should go to the doctor more often, but there's not much women can do about overall demographics and the fact that evolution has stuck them with the job of continuing the existence of the human species.
Either way, though, as an attempt to change the ACA winds its way through Congress, we should remember that there's hard-nosed practical reasons to keep certain rules on the books. But on the bright side for Price, at least he's not his boss, who just got the trademark to an escort service in China on International Women's Day.
(via Modern Healthcare)