Tomi Lahren and Chelsea Handler had their highly-touted showdown at Politicon on Saturday evening, though they probably ended up finding more common ground than actually sparring back and forth. That doesn't meant that Lahren came away looking better than she has in the past, especially considering she just finished joining behind Trump's confusing decision to ban — or at least tweet about banning — transgender people from serving the military. It was a topic during the discussion where the conservative host remained true to her persona, prompting a few groans from the audience. But she also prompted a little confusion too at certain points in the chat, like the moment she spent a chunk of time railing against Obamacare but then admitted she is benefiting from it:
"Luckily, I am 24, so I am still on my parents' plan."
She then echoed the Trump sentiment that Obamacare is in a death spiral, prompting Handler to snap back that Trump and others are "sabotaging" the act and should be doing "whatever we can to make the system that's in place thrive."
The entire discussion wasn't as heated as many likely expected it to be, with Handler playing moderator and allowing Lahren plenty of room to talk. But that doesn't mean the Netflix host held her tongue when it came to topics like Trump's lies, his "crybaby" attitude, and his recent policy decision on transgender people in the military. Lahren agreed with the president once again, saying the military is "not the place for a social experiment" while also attempting to say she has nothing against trans people.
This was likely the more intense moment of the evening, with Handler disagreeing and refuting the cost reasoning behind Trump's initial tweets:
"They are not scheduling it around the time they are deployed. No one is saying, 'I want time off in the middle of a war because I want my penis.' No one is doing that. That is unreasonable…

Handler noted that $2.4 million is spent on hormone therapy, but the military is spending $45 million a year on Viagra and Cialis.

"Shouldn't you be focusing on that?" Handler asked. "These people are volunteering to serve our country and it's not easy for them to even walk out to door,"
Handler then adds that the transgender community is only going to continue to grow, noting that it's 2017 and "they're not going away."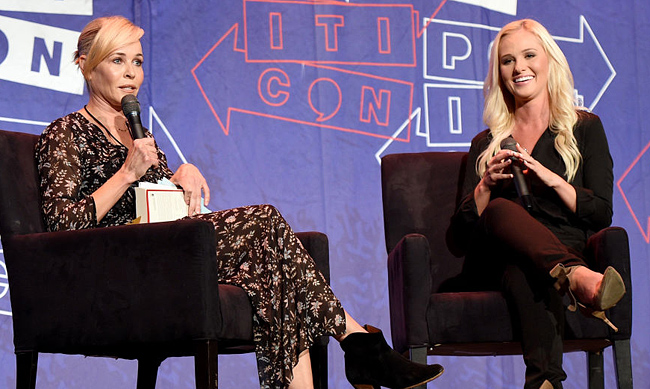 The rest of the talk circled around the typical sign posts when discussing Trump, including Russia, his use of Twitter, and some of the "alternative facts" he has used in the past. This includes his claims about his inauguration crowd sizes, which Lahren calls a lie she can live with. Handler actually ended up saying she liked the former Blaze host by the end of the evening, noting that a lot of people wouldn't want to sit down with her — possibly a reference to her aborted interview with Ann Coulter from last year, leading to her jabbing at the Conservative pundit and setting her book on fire.
You have to wonder if Handler would still say Lahren is the heir to the Coulter empire? Hard to say since she doesn't even have one book out yet, but we'll see.
(Via Variety / The Daily Beast)