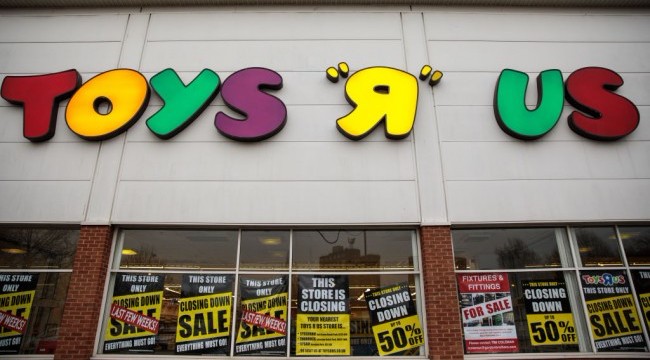 Last fall, Toys "R" Us filed for bankruptcy, becoming another casualty in online retailers' prolonged assault on brick-and-mortar stores. Unfortunately for Geoffrey the Giraffe, the company is expected to close down all of its stores, possibly as soon as next week. The closings present a larger problem for the toy industry as a whole as word of an impending liquidation sent stocks tumbling.
Both large and small toymakers were affected by the news. Hasbro and Mattel, the two largest companies in the sector, saw their stocks plunge by 3.5% and 7%, respectively. Currently, Toys 'R' Us is responsible for around 10% of all sales for both companies. Via CNN Money:
Mattel's overall sales during the fourth quarter (i.e, Christmas) fell 12% from a year ago, led by big drops for the Fisher-Price, American Girl and Lego competitor Mega Bloks brands.

Hasbro reported a decline in sales during the fourth quarter, despite the fact that the Nerf and My Little Pony owner now holds nearly all of the lucrative licenses tied to movies from Disney and its many other studios — Pixar, Marvel and Lucasfilm.
In a truly troubling sign that the industry could be in trouble, LEGO also reported their first sales drop in over thirteen years this week. However, industry experts believe that sagging sales and the loss of a key revenue stream in Toys "R" Us is likely to fuel rumors of a merger between Hasbro and Mattel as they struggle to survive an online-retail takeover.
(Via CNN)