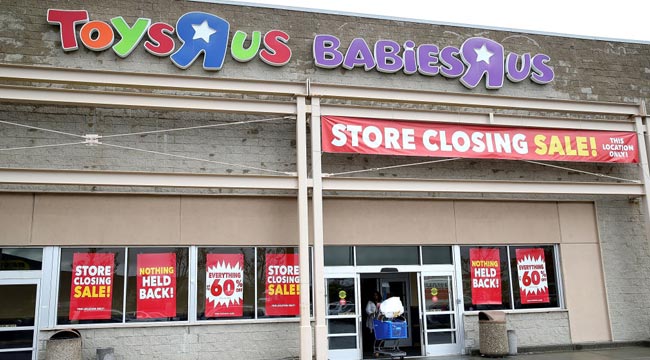 The end of Toys 'R' Us is nigh, with the former retail giant officially liquidating all of its stores in a massive, company-wide going-out-of-business sale that begins Thursday. Toys 'R' Us executives hoped to avoid this measure when they filed for bankruptcy, arguing for a Chapter 7 ruling rather than having to liquidate its assets if they filed for Chapter 11, but the court has ruled and now the store that was once a dream visit for kids across the country will disappear by mid-June.
Joseph Malfitano, one of the Toys 'R' Us bankruptcy advisors who works for liquidation specialists Malfitano Partners, called this unprecedented sale "probably the largest retail liquidation in the country's history." USA Today points out that roughly 144 stores began the liquidation process in February, but the remaining 700 stores make up one of the largest retail closures ever seen.
For those looking to pick through the bins and maybe pluck one of those old paper slips for a video game one last time, everything will be on sale, it's just not clear what the diverse collection of items in the store are going for. If video games are discounted, don't expect them to be lower than $40, that's about where the profit margin sits for most new, $60 software. This does seem like the best time to pick up an RC car, though. Even if the circumstances are depressing.