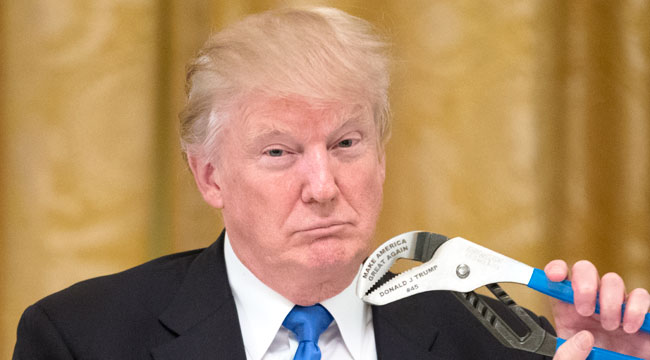 In an interesting move from an administration whose FCC voted to abandon federal regulations that govern equal access to the internet, Trump's team is considering taking over part of the U.S. mobile network. Axios reports (after a review of documents produced by a senior NSA official) that Trump's team is weighing the drastic move to guard against China as a threat, from both cybersecurity and economic standpoints.
This move appears to be a progression of Trump's current position of coming down hard on China as an economic competitor while protecting American interests. However, a federal takeover of the 5G network would be an unprecedented federal takeover of an industry that has always been privately controlled. While AT&T has informed Axios that they've already done substantial work to roll out their 5G service, the proposal involves the federal government building a single 5G network. Reuters takes the report further with confirmation from a senior Trump administration official:
"We want to build a network so the Chinese can't listen to your calls. We have to have a secure network that doesn't allow bad actors to get in. We also have to ensure the Chinese don't take over the market and put every non-5G network out of business."
Well, FCC chair Ajit Pai isn't pleased with this news, which is to be expected since he clearly believes in less government regulation and oversight of telecommuncation companies. However, Pai is also signaling that all of the Trump team's various limbs aren't working together. On Monday morning, he tweeted his opposition to a government-run 5G network: "The market, not the government, is best positioned to drive innovation and investment." You can read his full statement below.