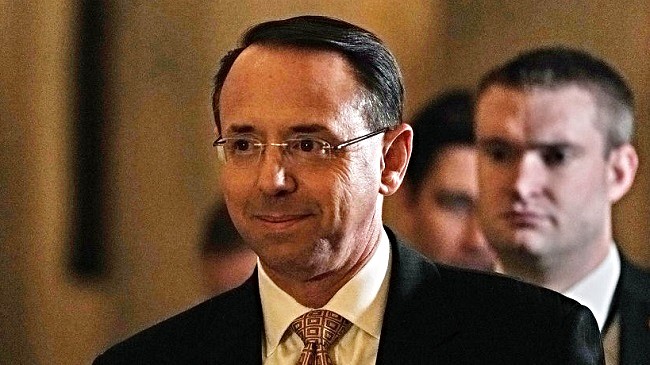 According to fired FBI Director James Comey's congressional testimony and previous reports citing White House staffers, President Trump demands loyalty from those who work for him. Hence why CNN's latest story concerning a December meeting between Trump and Deputy Attorney General Rod Rosenstein, whom the former apparently wants to "fire" or "get rid of," doesn't sound all that surprising.
Per CNN, Rosenstein was seeking the president's help in "fighting off document demands" made by Rep. Devin Nunes, but Trump had something else in mind:
[T]he President had other priorities ahead of a key appearance by Rosenstein on the Hill, according to sources familiar with the meeting. Trump wanted to know where the special counsel's Russia investigation was heading. And he wanted to know whether Rosenstein was "on my team."
Rosenstein "appeared surprised" by Trump's question and "awkwardly" answered, "Of course, we're all on your team, Mr. President." Aside from the question, however, Trump was also reportedly focused on the deputy attorney general's forthcoming testimony before the House Judiciary Committee (during which he was asked if he had taken a "loyalty pledge" at Trump's request). The president "brought it up" him during the White House meeting, then later "suggested questions to members of Congress that they could ask Rosenstein":
One line of inquiry Trump proposed lawmakers ask about was whether Rosenstein appointed Mueller as special counsel to investigate Russian meddling in the 2016 election because Mueller was not selected as FBI director… Sources say Trump believes Rosenstein was upset Mueller wasn't selected as FBI director and responded by making him special counsel.
However, the attending members of the House Judiciary Committee didn't ask Rosenstein any questions similar to Trump's alleged suggestions.
(Via CNN)