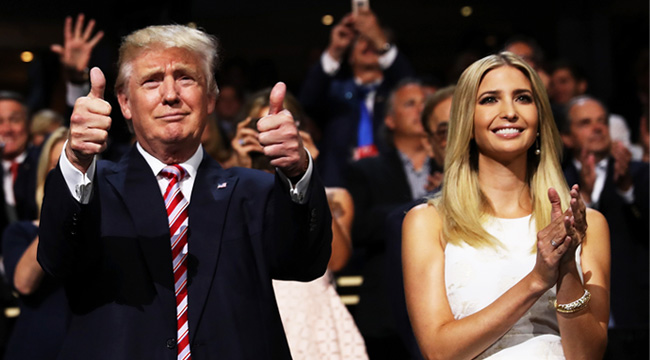 Donald Trump didn't take too kindly to Nordstrom dumping his daughter Ivanka Trump's clothing label. The president of the United States took to Twitter to moan about the situation in what may be the first time a sitting president has declared war against a department store.
In early February, Nordstrom decided to drop Ivanka's merchandise, which they chalked up to declining sales. That may have been a PR-motivated excuse, for a boycott and #GrabYourWallet hashtag movement, along with her father's cavalier attitude, may have resulted in pressure on the department store to drop the Ivanka Trump clothing line. Being the proud papa he is, the president tweeted he felt his daughter was unfairly treated by Nordstrom. And to further hammer home the point, he had the official POTUS account retweet it:
Trump has used his national platform to complain about some things, including the press, immigrants, radical Islam, but retaliating against a company because they're not letting his daughter make a few extra bucks is a first. And his criticism may have had an impact, as Mother Jones Senior Editor Aaron Wiener tweeted that Nordstrom's stock fell after the Trump tweet:
But that was short lived, as Bloomberg reported the stocks quickly rebounded. Attacking an American company that provides numerous jobs to hard working jobs to Americans may not be the best way to Make America Great Again.
Meanwhile, the Washington Post's Glenn Kessler looked at the White House schedule, which may point towards Trump tweeting about Nordstrom during the slot allotted to his intel briefing.
As all of this was going down, TJX Companies ordered two of its retailers, T.J. Maxx and Marshalls, to stop displaying Ivanka's merchandise in a stand-out display and also to dispose of any signage. Spokesperson Doreen Thompson told the New York Times, "The communication was intended to instruct stores to mix this line of merchandise into our racks, not to remove it from the sales floor." She also stated, "We offer a rapidly changing selection of merchandise for our customers, and brands are featured based on a number of factors."
(Via Politico & Bloomberg & New York Times)