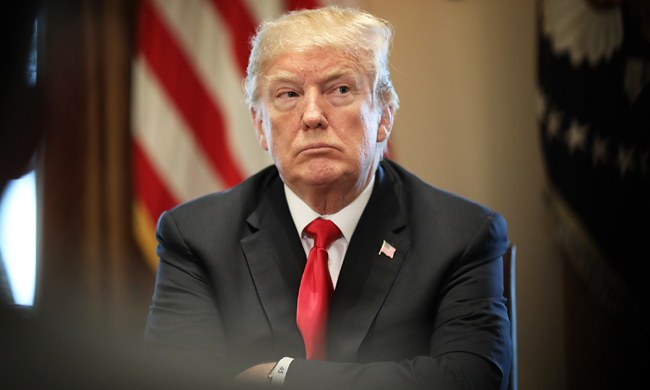 An "unglued" President Trump surprised his own economic advisers last week by announcing that he would be imposing potentially crippling tariffs on steel and aluminum, effectively starting a trade war. But those closest to the president weren't the only ones taken aback, as Trump had apparently "emphatically" promised Australian Prime Minister Malcolm Turnbull last year that Australia would be exempt from any new tariffs, just as White House trade adviser Peter Navarro clarified Sunday that there would be no exemptions for allies of the United States.
The new tariffs would impose a 25 percent tax on imported steel and 10 percent for aluminum, and currently, Australia exports roughly $500 million in steel and aluminum to the states per year.
The meeting between Trump and Turnbull was reportedly held on the sidelines of the G20 meeting in Hamburg, Germany, last year, and was witnessed by Treasury Secretary Steven Mnuchin, Commerce Secretary Wilbur Ross, and Chief Economics Adviser Gary Cohn — who were among those who advised against the president's decision.
Mr. Turnbull and Trade Minister Steve Ciobo have been lobbying the Trump administration to spare Australia from the tariffs. Mr Ciobo has been urgently trying to clarify whether Australian steel and aluminum will be hit.

"My concern remains that off the back of actions like this, we could see retaliatory measures put in place by other major economies. That's in no-one's interests. Let's be clear," Mr Ciobo said last week.
This isn't the first time Trump has clashed with Prime Minister Turnbull. Shortly after being inaugurated back in February of 2017, Trump had a combative phone conversation with Turnbull and eventually hung up on him, which he later described as his "most unpleasant call all day."
(Via ABC News, Washington Post)