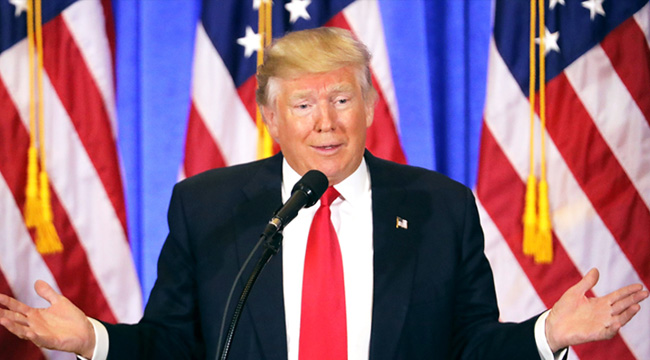 President-elect Donald Trump was expected to visit the new Smithsonian Museum of African American History and Culture on Monday to observe Martin Luther King Day, but that's no longer the case. Sources close to the Trump camp are now sending mixed messages on whether he truly planned to do so in the first place, and it sounds, well, confusing.
Trump's checkered history with "The Blacks" grew ever more complicated when he kicked off MLK weekend by trashing civil rights legend John Lewis on Twitter. By calling Lewis "all talk, talk, talk – no action or results," Trump made it clear that he has no inkling of Lewis' place in history. He likely does not know that Lewis walked alongside Martin Luther King, Jr. or that he was beaten by police during protests at Selma on Bloody Sunday. Trump was simply popping off after Lewis' assertion that he's not a "legitimate president" in light of Russian hacking. Trump also probably heard that Lewis testified against AG nominee Jeff Sessions regarding his own civil rights record.
Whether or not Trump's feud with Lewis is the reason he won't appear at the Smithsonian Museum of African American History is up for debate, but ABC News has the muddled official word that he may visit in the future:
Donald Trump is no longer expected to visit the Smithsonian Museum of African American History and Culture in observance of Martin Luther King Day, senior level transition sources tell ABC News.

Senior sources initially said Trump would visit the museum, but ABC has learned that the visit was removed from his calendar due to scheduling issues and was not fully planned out.

Trump is expected to visit the museum sometime after he assumes office, the sources say. He will commemorate Martin Luther King Jr. Day in Washington, D.C., in another way, though details were not immediately available today.
This move also follows backlash that occurred after Steve Harvey met with Ben Carson (and Trump) to discuss improving inner cities. During general election season, Trump also declared that African American communities are in the "worst shape they've ever been" (while forgetting all about slavery). He painted negative portraits of inner cities and told voters that only he can save African-Americans from their urban hellscapes.
In light of all these claims, Trump's decision to not visit a culturally significant museum on MLK day kinda seems like "all talk, no action," which is exactly how he described John Lewis. And he's still trashing Lewis on Twitter too…
(Via ABC News)