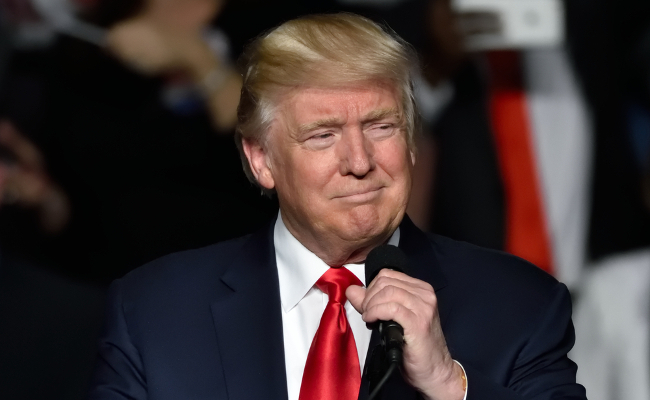 Whatever your opinion of Donald Trump, it's undeniable that he seems to sprint from one mess to another. No sooner has something embarrassing surfaced than something else more embarrassing bubbles up next to it. And, like clockwork, a new Forbes article has appeared to document how the Trump Org took money raised for children's cancer charities for itself, and in the process took the Eric Trump foundation away from its own namesake.
To be fair, Eric Trump's charitable golf tournaments have come under fire in the past, but Forbes has dug in deeper and found that it's much more complicated, and potentially legally actionable, than those early revelations implied:
And while donors to the Eric Trump Foundation were told their money was going to help sick kids, more than $500,000 was re-donated to other charities, many of which were connected to Trump family members or interests, including at least four groups that subsequently paid to hold golf tournaments at Trump courses. All of this seems to defy federal tax rules and state laws that ban self-dealing and misleading donors.
The whole Forbes piece is a fascinating read, detailing Trump's de facto takeover of his son's charity as the board of Eric's friends was replaced by Trump's associates like his troubled personal attorney, Michael Cohen, and his social media director, Dan Scavino. Costs at Trump properties for the charity fundraisers began to increase, and the foundation began donating to charities that suddenly turned around and began using Trump facilities.
If that weren't enough, it appears that Trump's personal foundation, which he didn't contribute to, donated to his son's foundation to cover the first round of bills. That is, Trump used other people's money to put into his son's coffers, which he then extracted as fees for using his facilities. This has much in common with how drug cartels launder money.
The one upside is, at least, a fair chunk of the money is going towards kids with cancer, and notable children's cancer hospital St. Jude reports the foundation donated $2.9 million. Which, perhaps, is the tragedy of all this; some good is undeniably being done, but done in a way that forces people to question the motives behind it.
UPDATE: Following Forbes' piece, the Washington Post's David Fahrenthold tweeted a screencap of a question he sent to Eric, who appears to have misled Fahrenthold regarding the golf course charity events.
(via Forbes)