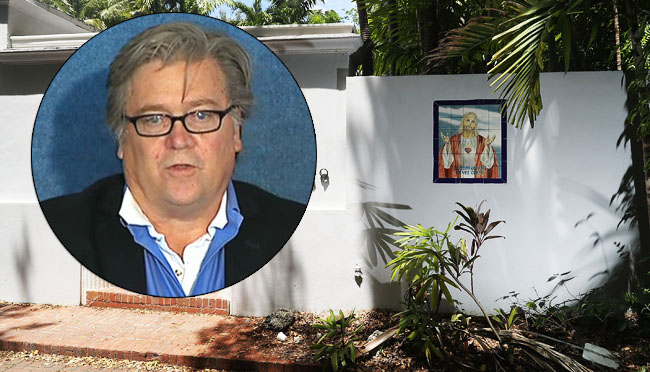 Controversy never stops swirling around the Trump campaign. The drive for attention by the candidate also carries that extra scrutiny by the "corrupt" media, bringing to light numerous details we might not know otherwise. It also indirectly helps the Clinton campaign.
The latest is a flurry of allegations surrounding new Trump Campaign CEO Steve Bannon. A past domestic abuse charge against Bannon was recently uncovered, followed by a report by The Guardian showing that Bannon was registered to vote in Florida using a vacant home:
Stephen Bannon, the chief executive of Trump's election campaign, has an active voter registration at the house in Miami-Dade County, Florida, which is vacant and due to be demolished to make way for a new development.

"I have emptied the property," Luis Guevara, the owner of the house, which is in the Coconut Grove section of the city, said in an interview. "Nobody lives there … we are going to make a construction there." Neighbors said the property had been abandoned for several months…

Bannon, Clohesy and Trump's campaign repeatedly declined to answer detailed questions about Bannon's voting arrangements. Jason Miller, a Trump campaign spokesman, eventually said in an email: "Mr Bannon moved to another location in Florida." Miller declined to answer further questions.
According to The Guardian, Florida law states that "voters must be legal residents of the state and of the county where they register to vote" and that legal residence is where one "mentally" intends to make their residence. Submitting this false information would be considered a "third-degree felony" according to The Atlantic:
It's not altogether uncommon for people to have failed to update old registrations, but it's particularly embarrassing for Bannon, since he is running a presidential campaign, no less one that is warning about widespread fraud. Moreover, the Guardian reports that Bannon may have previously registered at an address in Florida where he did not live. Wilfullly providing false voter-registration information in Florida is a third-degree felony, punishable by up to five years in prison.

Bannon also lives in Los Angeles and Washington, D.C. According to tax records, the D.C. residence "is actually owned by Mostafa El-Gindy, an Egyptian businessman and former member of parliament. Gindy has received favorable coverage from Breitbart News, which styles him as a 'senior statesman.'"
The Guardian report adds that Bannon never stayed at the property according to the neighbors. After reaching out to the Trump campaign, the paper received a statement noting that Bannon had moved to another residence in Florida but did not get confirmation that the Trump campaign CEO was living there. In a follow-up report, it was shown that Bannon was now registered at the home of a reporter for Breitbart:
Stephen Bannon is now registered to vote at the Florida house of Andy Badolato, who reports for Breitbart News and has worked with Bannon in the past on the production of political films.

According to public records, Badolato, 52, and two of his adult sons are also registered to vote at the property, which he co-owns with his ex-wife.
As The Atlantic reports, it is more an embarrassment to the campaign than the heights of political scandal. The Trump campaign has railed against voter fraud and the corrupt politicians in the past. Coupled with the reports of domestic violence charges, it's clear that Bannon is under the media microscope. These allegations will likely be far from the last during the final steps of the campaign.
(Via The Guardian / The Atlantic)