To help construct and implement President Donald Trump's plan for America, he'll need a lot of help from his cabinet. But is this collection of well-off business vets (and the occasional public official) ready for the awesome responsibility that lies ahead? Over these next few weeks, we'll watch as Senators push cabinet designates on their track records and we'll keep tabs on which tough questions are being asked and what the prospects are for confirmation with this frequently updated scorecard.
Secretary of Defense: Gen. James "Mad Dog" Mattis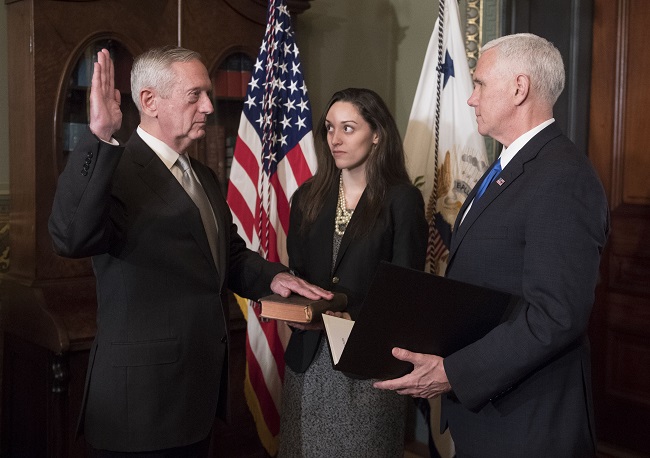 Recap: Advances in the military's attitudes toward gay, lesbian, and transgendered personnel and the role of women in combat were supported, cyber warfare was regarded as a serious threat, and Russia was deemed a "strategic competitor," indicating a suspicious view of the meddling military superpower from the retired four-star general.
Status: Mattis was confirmed near unanimously on January 20.
Secretary of Homeland Security: Gen. John Kelly
Recap: Another retired four-star general, Kelly said he believed "a physical barrier in and of itself will not do the job" in relation to the U.S.-Mexico border wall and spoke out against the idea of a Muslim registry and the mass collection of data from U.S. citizens.
Status: Kelly was confirmed on January 20.
CIA Director: Mike Pompeo
Recap: The big headline from Pompeo's hearing came when the now incoming chief of the CIA confirmed the intelligence community's findings on Russia's role in the hacks that were aimed at impacting the 2016 election. Still, Pompeo didn't exactly sail through his confirmation, encountering vocal opposition due to his stance on torture (though, he refined his position and seemed more dismissive of waterboarding in his hearing).
Status: Despite objections, Pompeo was confirmed on January 23 with minor Democratic support and one dissenting vote from the right by Sen. Rand Paul (R-Kentucky).
Secretary of State: Rex Tillerson