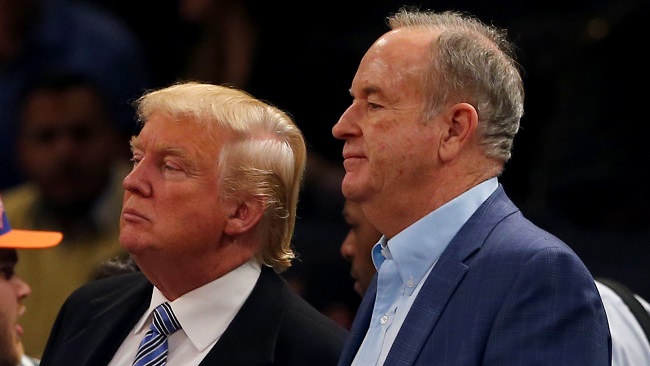 It seems The Daily Show host Trevor Noah's dreams won't come true, as Sexual Assault Awareness Month-declarer Donald Trump did not call out embattled Fox News personality Bill O'Reilly over the latest allegations of his sexual misconduct. Instead, while chastising the New York Times and reporters from other major outlets for not adequately covering the Susan Rice "scandal," the current President of the United States came out in support for his friend and political ally.
"I think he's a person I know well — he is a good person," Trump boasted from the Oval Office while surrounded by the likes of Reince Priebus and Mike Pence:
"I think he shouldn't have settled; personally I think he shouldn't have settled," said Mr. Trump. "Because you should have taken it all the way. I don't think Bill did anything wrong."
The decision of luxury car-maker Mercedes and dozens of other advertisers to pull their ads from The O'Reilly Factor, as well as the titular host's recent Twitter spat with CNN rival Don Lemon, have steadily increased the story's prominence among major news outlets this week. While O'Reilly's top billing at Fox News hasn't been affected thus far, however, Trump's latest attempt to insert himself into the national conversation probably isn't helping things for the cable network's public relations department.
After all, he's the same man who suggested famous male celebrities could simply "grab 'em by the p*ssy" in the Access Hollywood tape. More recently, Trump claimed he was immune to lawsuits for defamation (by a woman who accused him of groping her years ago) while in office. All of this, again, arrives in the context of April 2017 being "National Sexual Assault Awareness and Prevention Month."
Wave to the camera, boys!
(Via New York Times)