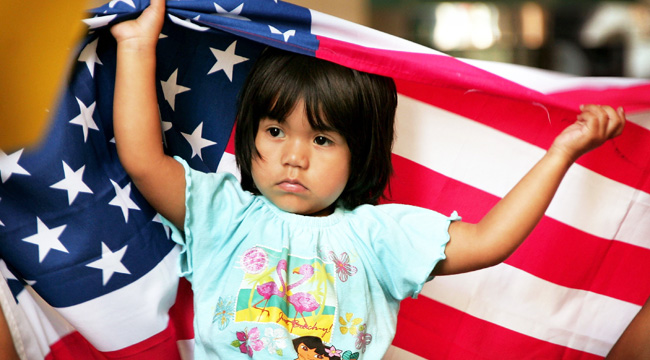 The immigrant community has largely been holding its breath since Donald Trump took office. But one group was able to exhale a small sigh of relief today — the so-called "dreamers," the children of undocumented immigrants who were brought here as children. The Department of Homeland security just announced that Obama-era protections for dreamers will stay in place, saving them from deportation and helping them get the necessary work permits to live life in the United States above board.
Ahead of the announcement, immigration lawyer David Leopold issued a statement:
"This is a big victory for Dreamers amid months of draconian and meanspirited immigration enforcement policy. The preservation of DACA [Deferred Action for Childhood Arrivals] is a tribute to the strength of the Dreamer movement and an acknowledgment — at least in part — by the Department of Homeland Security that it should not be targeting undocumented immigrants who have strong ties to their communities and have abided by the law."
Some Trump supporters will no doubt be indignant at a broken campaign promise. As far back as 2015, Trump promised he would "immediately terminate President Obama's illegal executive order on immigration." In the past, Trump characterized DACA as "illegal executive amnesties" that "defied federal law and the constitution to give amnesty to approximately 5 million illegal immigrants." Trump even talked about deporting dreamers and letting the "terrific" ones back in on a case-by-case basis. But despite all the bluster, Trump seems to have recognized the logistical and optical nightmare that would ensue if DACA were outright revoked.
While DACA isn't going anywhere anytime soon, the same can't be said for all dreamers, some of whom have already been detained or deported. The first, Juan Manuel Montes was deported to Mexico in April, although he's lived here since the age of nine. The 23 year old had left his wallet in a friend's car, and couldn't produce ID when ICE agents requested it during a random stop. Three hours later, he was back in a country he hadn't seen in 14 years. At the time of Montes' deportation, advocacy groups told USA Today that at least 10 other dreamers had been taken into federal custody. Some, like Francisco J Rodriguez Dominguez, who was arrested without a warrant by ICE in March, have been detained and eventually released. Dreamer Daniela Vargas was detained for weeks by ICE after speaking at a Jackson, Mississippi news conference on her father and brother's arrests by immigration agents.
There are an estimated 800,000 dreamers in the United States — roughly the same size group as the population of Charlotte, North Carolina. They might be protected by law, but even with DACA dreamers aren't not targets. And for dreamers with undocumented parents, there is still very real fear that families could be split up after years of relative normalcy. While immigration advocates and Trump supporters debate the merits of the DACA decision, the U.S. immigrant community will still be watching its back.
(Via New York Times, USA Today & CNN)