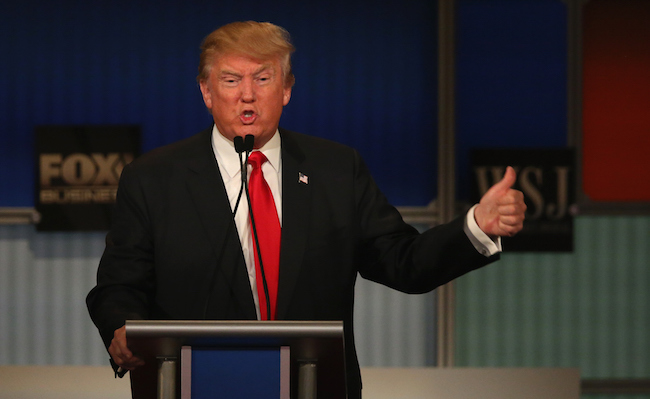 SNL yukmeister Donald Trump has served as a controversial figure when it comes to presenting his philosophy on immigration. Last night's Fox Business debate featured the Republican White House hopeful leaning into some controversial ideas. The big one? An endorsement of the Eisenhower-era "Operation Wetback" policy.
Trump didn't mention the policy by name. What he did was lay out his warm feelings for the gist of the program. Here it is courtesy of Vox's transcription:
Dwight Eisenhower, good president, great president, people liked him. I like Ike, right? The expression. I like Ike. Moved a million 1/2 illegal immigrants out of this country, moved them just beyond the border. They came back. Moved them again, beyond the border, they came back. Didn't like it. Moved them way south. They never came back. Dwight Eisenhower. You don't get nicer, you don't get friendlier. They moved a million 1/2 people out. We have no choice.
For a non-Trumpified explanation of the policy, there's this description that Rolling Stone plucked from the Texas State Historical Association:
"Operation Wetback, a national reaction against illegal immigration, began in Texas in mid-July 1954. Headed by the commissioner of Immigration and Naturalization Service, Gen. Joseph May Swing, the United States Border Patrol, aided by municipal, county, state, and federal authorities, as well as the military, began a quasi-military operation of search and seizure of all unauthorized immigrants."
Unsurprisingly, Trump has faced some serious criticism for his remarks and glowing review of this sort of approach to governing the United States. Republican Alfonso Aguilar has strongly condemned the attitude of the man aiming to appear on his party's presidential ticket:
"The Eisenhower mass deportation policy was tragic. Human rights were violated, people were removed to remote locations without food and water, there were many deaths, sometimes U.S. citizens of Hispanic origin were removed, it was a travesty, it was terrible. To say it's a success story, it's ridiculous."
Ohio governor John Kasich also took issue with Trump's comments during the debate. "Come on, folks, we all know you can't pick them up and ship them back across the border," he said. "It's a silly argument. It's not an adult argument."
The next Republican debate is slated to go down on December 15 in Las Vegas.
(Via Rolling Stone)