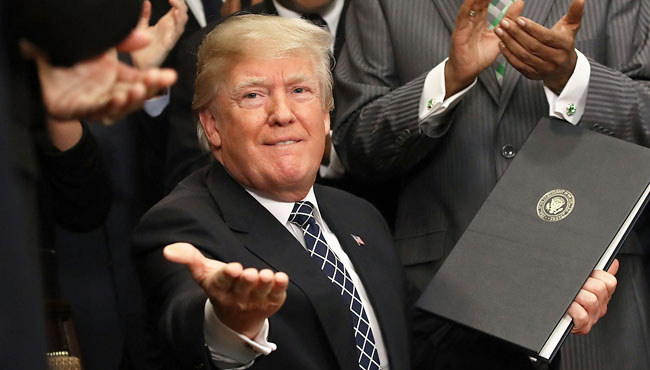 Donald Trump's "Fake News Awards" have finally arrived after a few delays, but that doesn't mean they arrived without incident. The president tweeted out the link to the "awards" over at the GOP official site and those who clicked the link were greeted with a 404 error.
Fox News managed to get their hands on the awards, which shouldn't be much of a shock, and most of the "winners" are noteworthy members of the president's media enemies list. This includes the New York Times in the top spot, ABC News thanks to Brian Ross' mishandled reporting that earned him a suspension and CNN:
1) The New York Times' Paul Krugman claiming markets would 'never' recover from Trump presidency
2) ABC News' Brian Ross' bungled report on former national security adviser Michael Flynn
3) CNN report that the Trump campaign had early access to hacked documents from WikiLeaks
4) TIME report that Trump removed a bust of Martin Luther King, Jr. from the Oval Office
5) The Washington Post's Dave Weigel tweeting that Trump's December rally in Pensacola, Florida, wasn't packed with supporters
6) CNN's video suggesting Trump overfed fish during visit with Japanese Prime Minister Shinzo Abe
7) CNN's retracted report claiming Anthony Scaramucci-Russia ties
8) Newsweek report that Polish First Lady Agata Kornhauser-Duda did not shake Trump's hand
9) CNN report that former FBI Director James Comey would dispute President Trump's claim he was told he was not under investigation
10) The New York Times report that the Trump administration had hidden a climate-change report
11) In Trump's words, "'RUSSIA COLLUSION!' Russian collusion is perhaps the greatest hoax perpetrated on the American people. THERE IS NO COLLUSION!"
The announcement couldn't be read on the official site when it first dropped, with most folks getting the following message:
Of course, this led to a few funny reactions from folks on Twitter:
As with most things with President Trump, the support and criticism fell down through party lines essentially. A few were upset that the GOP itself hosted the list and made themselves part of the president's stunt. Others were quick to support him and the list. You can now go peruse the official list yourself and judge just how "fake" the news awarded could be. We can then compare it to how many times the administration has been caught in a fabrication up to this point.
(Via Fox News)