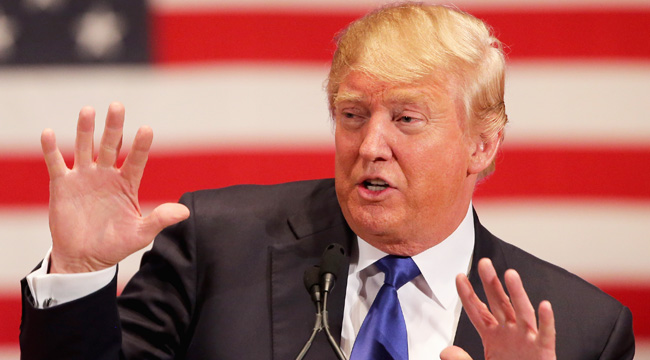 Donald Trump's charitable foundation is much less charitable than he would have you believe. Beyond using $20,000 in donated funds to purchase a painting of himself, Trump may have fudged his charity's books by reporting donations to the IRS that were never actually made.
According to a Washington Post deep dive into the organization's reported contributions, in at least five instances, the Trump Foundation reported "phantom" donations to the government.
The Post examined "24 years of tax filings and reached out to more than 200 people and groups listed in those filings as donors or recipients of gifts." On five separate occasions, Post reporters called a charitable organization to confirm a listed donation and were told that no such contribution existed. Those five instances are listed below.
1. $10,000 to the Giving Back Fund in Los Angeles in 2008.
Marc Pollick, the fund's president and founder, told the Post that his group searched their files and found no indication of a Trump donation. He wrote in an email: "We have already reached out to the Trump Foundation to ask them to actually SEND us the $10,000 that they claimed they sent in 2008!"
2. $5,000 to the Children's Medical Center in Omaha, Neb. in 2010.
"Children's Hospital & Medical Center's Foundation does not have a gift from the Donald J. Trump Foundation or Donald Trump in its records," said Sarah Weller, a spokeswoman for the medical center, told the Post. She suggested he may have given money to a hospital in a different city, but the Trump Foundation's records clearly list the Omaha Children's Medical Center with an accurate address.

3. $10,000 to the Latino Commission on AIDS in 2012.
Donald Trump promised this contribution during an episode of The Celebrity Apprentice. Contestant Dayana Mendoza, a former Miss Universe, was promised the money for her charity along with those of five other contestants. The Trump Foundation did send $10,000 each to the other charities. "No … donations of any kind from Donald Trump or the Donald J. Trump Foundation were received," Daniel Leyva, a spokesperson for the commission, told the Post.
4. $1,000 to Friends of Veterans in White River Junction, Vt. in 2013.
In January, a Trump staffer called Larry Daigle, the group's president, about $5 million Trump had raised during a televised fundraiser for veterans in Iowa. The staffer stated that he couldn't give Friends of Veterans any of the money, because of a record of a $1,000 donation from the Trump Foundation in 2013. "I don't remember a donation from the Trump Foundation," Daigle told the staffer. The group did not receive any of the funding.
5. $25,000 to Justice for All in Kansas in 2013
"Our organization, Justice for All Inc., did not receive a $25,000 donation from the Donald J. Trump Foundation in 2013," staffer Tammy Cook told the Post. (This one might actually be for the best, as Justice for All seeks to "make abortion unthinkable" by training pro-lifers to change people's minds about abortion.)
The Justice for All donation is the only instance that the Trump Foundation has commented on. The donation record has been used to explain away an improper political donation to an organization affiliated with Florida Attorney General Pam Bondi in 2013. According to Trump's staff, a "series of errors" led to the payment — as well as the fact that it was hidden from the IRS.
Three different charities with the name "Justice For All" — based in Florida, Utah, and Kansas — were mixed up in the process of making a donation. A charity in Utah was supposed to receive money that ended up with a pro-Bondi group in Florida, and the organization's accountants reported that it went to Kansas.
"That was just a complete mess-up on names. Anything that could go wrong did go wrong," Jeffrey McConney, the Trump Organization's controller, told the Post.
(Via The Washington Post)