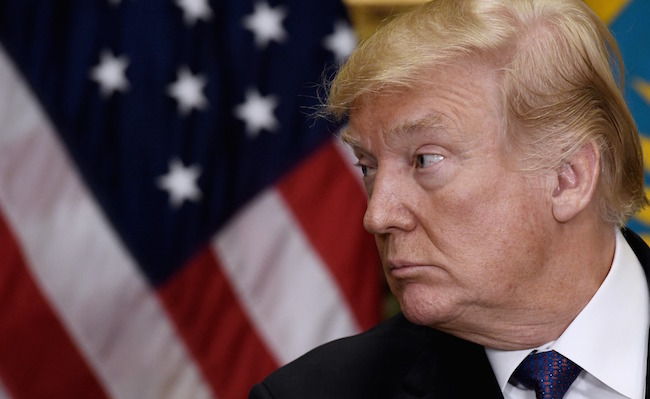 The threat of a government shutdown became a reality as midnight hit in D.C. on Friday. On Saturday morning, President Donald Trump fumed online (as is customary) that Democrats are the ones to blame for the shutdown, while the Dems are pointing the finger of blame back at the GOP.
In a series of tweets sent out Saturday morning, Trump declared that the inability to make a deal was the result of Democrats favoring "illegal immigrants" over defense and security spending. It should be noted that this is the first modern era government shutdown with Congress and the White House controlled by the same party, which is not the sort of feat Trump would tout on the anniversary on his inauguration. (The hashtag #TrumpShutdown became a global trend as a result.) Naturally, Trump's "America First" branding was also included in his complaints.
"Democrats are far more concerned with Illegal Immigrants than they are with our great Military or Safety at our dangerous Southern Border," grumbled Trump online. "They could have easily made a deal but decided to play Shutdown politics instead. #WeNeedMoreRepublicansIn18 in order to power through mess!"
Trump's insistence that the Dems could have made a deal is woven into the de facto campaign rhetoric in his social media response. In a statement released just before the shutdown, the Trump Administration also trashed the Democrats over the non-deal.
"We will not negotiate the status of unlawful immigrants while Democrats hold our lawful citizens hostage over their reckless demands," said White House press secretary Sarah Sanders. "This is the behavior of obstructionist losers, not legislators."
New York Democrat and Senate Minority Leader Chuck Schumer has put the blame for the shutdown squarely on Donald Trump.
"It's almost as if you were rooting for a shutdown," said Schumer speaking to the Senate. "And now we will have one. And the blame should crash entirely on President Trump's shoulders. This will be called the Trump shutdown. This will be called the Trump shutdown because there is no one, no one, who deserves the blame for the position we find ourselves in than President Trump."
Schumer says he even put Trump's notorious border wall promise on the table for the discussions.
"During the meeting, in exchange for strong [Deferred Action for Childhood Arrivals] protections, I reluctantly put the border wall on the table for the discussion," he said. "Even that was not enough to entice the president to finish the deal."
Both Republicans and Democrats have vowed to work on ending this standoff.