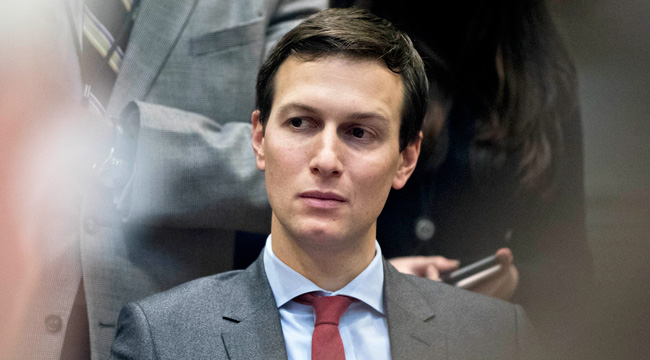 Many disastrous weeks have plagued Donald Trump's political career thus far, but last week seemed to top them all. A few highlights included FBI Director James Comey revealing to the House Intel Committee that the agency was investigating Russian-Trump ties; Democrats announced they would filibuster SCOTUS nominee Neil Gorsuch; and — most prominently — the Republican healthcare plan known as Trumpcare entirely imploded. Trump didn't (publicly) lose his temper all weekend, and he'll begin anew by christening an office aimed at running the government like a finely-Trump-tuned company. Trump's also planning to have son-in-law Jared Kushner run the joint, despite the fact that he was reportedly "fuming" over Kushner going to ski in Aspen in the midst of the push to pass Trumpcare through Congress.
The Washington Post reports that Trump will make a formal Monday announcement about this new office, the White House Office of American Innovation, which will be granted "sweeping authority" to revamp the federal bureaucracy and shall operate out of a West Wing office while reporting directly to the president. Trump hopes this will be his legacy:
The White House Office of American Innovation, to be led by Jared Kushner, the president's son-in-law and senior adviser, will operate as its own nimble power center within the West Wing and will report directly to Trump. Viewed internally as a SWAT team of strategic consultants, the office will be staffed by former business executives and is designed to infuse fresh thinking into Washington, float above the daily political grind and create a lasting legacy for a president still searching for signature achievements.
Trump also directly told The Post that he created this office to serve every American while eliminating "government stagnation" that he says has created too many delays and red-tape congestions. He also feels that Kushner's business experience makes him well qualified to transform D.C. bureaucracy. (Kushner made his name through his real estate holdings, and his business experience extends to publishing The New York Observer.) However, one detail about Trump's plan sticks out — Steve Bannon will reportedly play no role in this innovation office, and Kushner has already spoken on his new gig:
Kushner is positioning the new office as "an offensive team" — an aggressive, nonideological ideas factory capable of attracting top talent from both inside and outside of government, and serving as a conduit with the business, philanthropic and academic communities. "We should have excellence in government," Kushner said Sunday in an interview in his West Wing office. "The government should be run like a great American company. Our hope is that we can achieve successes and efficiencies for our customers, who are the citizens."
Well, the impending announcement seems like a mere formality intended to clear the air of law week's bad White House and GOP-led Congress vibes. In the recent past, Kushner has lobbied the press for kinder Trump coverage and also met with the Russian ambassador, which makes him the perfect Trump protege. However, if Kushner plans on using Trump companies as a model for success, this may not work out as planned.
Also, this the second time in a week that Trump has handed a scoop to the Washington Post, which often critically reports upon him. What is going on, and how long can Trump "play nice"?
(Via Washington Post)