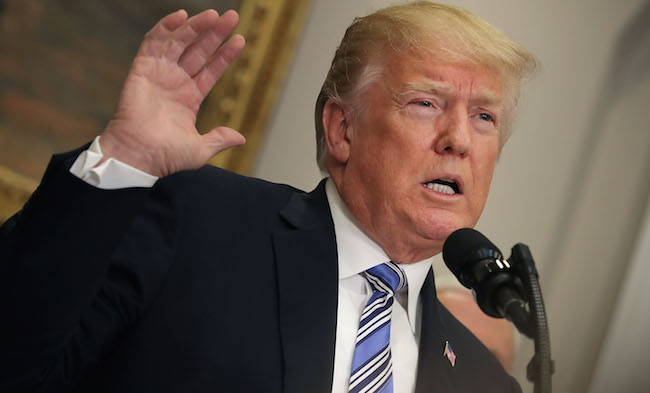 North Korean leader Kim Jong Un has extended an invitation to Donald Trump for talks. That invitation has been accepted and signals the next chapter in the complicated relationship between the United States and North Korea.
As teased by Trump earlier in the day, South Korea's national security advisor Chung Eui-yong appeared outside the White House to announce the planned meeting. The Washington Post reports that Chung indicated Kim will not be engaging in nuclear and missile testing in the period ahead of this interaction.
"[Kim Jong Un] expressed his eagerness to meet President Trump as soon as possible," said Chung. "President Trump said he would meet Kim Jong Un by May."
The planned meeting comes as the Trump presidency has been liberal with taunts and threats of nuclear action against North Korea with the two leaders frequently engaging in strongman rhetoric while clashing foreign relations swords.
"I explained to President Trump that his leadership and his maximum pressure policy, together with international solidarity, brought us to this juncture," offered Chung.
The White House released a statement shortly after the announcement confirming the talks.
He will accept the invitation to meet with Kim Jong Un at a place and time to be determined," said White House press secretary Sarah Huckabee Sanders. "We look forward to the denuclearization of North Korea. In the meantime, all sanctions and maximum pressure must remain."
Naturally, a tweet quickly emerged from Trump as well.
"Kim Jong Un talked about denuclearization with the South Korean representatives, not just a freeze," he tweeted. "Also, no missile testing by North Korea during this period of time. Great progress being made but sanctions will remain until an agreement is reached. Meeting being planned!"
Even if discussions of sanctions and nuclear weapons fall through, Trump and Kim always have the opportunity to fall back on comparing notes on military parades.
(Via Washington Post & CNN)