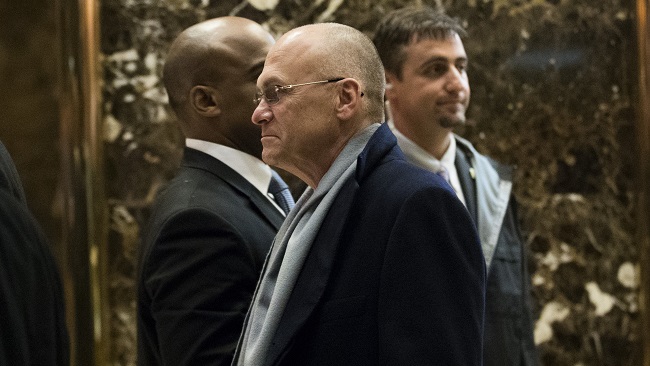 Wednesday's end-of-day news cycle saw announcements by Donald Trump's transition team for its two latest cabinet picks. The first named noted EPA antagonist Scott Pruitt, Oklahoma's attorney general, as the organization's new leader, where the second turned WWE executive Linda McMahon into the head of the Small Business Administration. With two days to go before the weekend, it seems the president-elect has his work cut out for him in order to maintain a steady news lead through late Friday with additional appointments and teases.
According to the Wall Street Journal, it seems Trump has done just that as the Republican presidential victor will name Carl's Jr. CEO Andy Puzder as his choice for labor secretary. Puzder, who co-wrote Job Creation: How It Really Works and Why Government Doesn't Understand It with finance professor Dr. David Newton, has plenty of experience when it comes to labor in the United States. After all, he's the very same fast food executive who told Business Insider in March he wanted to "try" creating restaurants devoid of human workers: "We could have a restaurant… where you order on a kiosk, you pay with a credit or debit card, your order pops up, and you never see a person."
The reality of automation's (let alone robots') ability to replace human labor isn't as far along as most would assume. Yet as the WSJ indicates, Puzder's admitted interest in the subject pales in comparison to the more pressing labor issues he would gain power over should his appointment to the U.S. Department of Labor be approved by Congress. Among other things, the fast food executive "has criticized the Affordable Care Act and has argued against raising the federal minimum wage higher than $9 an hour." He also contributed to and advised on Trump's presidential campaign throughout the 2016 election.
(Via Wall Street Journal)