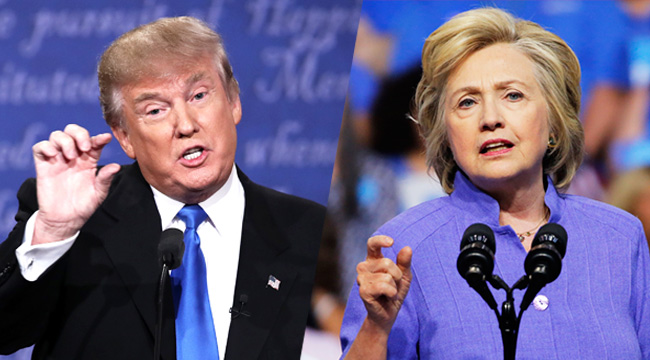 A new national poll from ABC/Washington Post proves one thing above all — this election will keep us guessing until the bitter end. This unpredictable season has presented a new turn in the road, which shows that Donald Trump now leads Hillary Clinton by one percentage point (46% to 45%, respectively). To take things down to the nittier and grittier, breaking down the poll to the decimal point level shows Trump leading by 0.7 of a percentage point.
The poll's immediate analysis attributes this dampening of the Democratic nominee's enthusiasm base to Friday's news of the FBI reopening its probe of her emails. FBI Director James Comey has been heavily criticized for making this announcement so close to the election, which could sway voters.
Indeed, this could be the immediate effect without much time for Clinton to recover. The poll also speaks to the "strong enthusiasm" of Trump supporters, who remain unfazed by his legitimate scandals, while the fandom of Clinton has taken a recent hit. That portion of the poll shows the enthused Trump percentage holding at about 53% for the past 10 days, and Clinton's supporter enthusiasm has fallen 7% to 45% over the same time period.
While the enthusiasm factor cannot be discounted, the poll's overall results may also have something to do with the inevitable fall of Libertarian Gary Johnson to 3% while Green Party nominee Jill Stein is still somehow hanging onto 2%. (And if you're about to make a Harambe joke, countless bros already beat you to the punch.)
According to CNN, the Clinton campaign isn't alarmed and feels that this challenge will be "the ultimate test" of "whether her core message — that she is the only candidate fit to be president — will resonate." November 8 is coming, y'all.