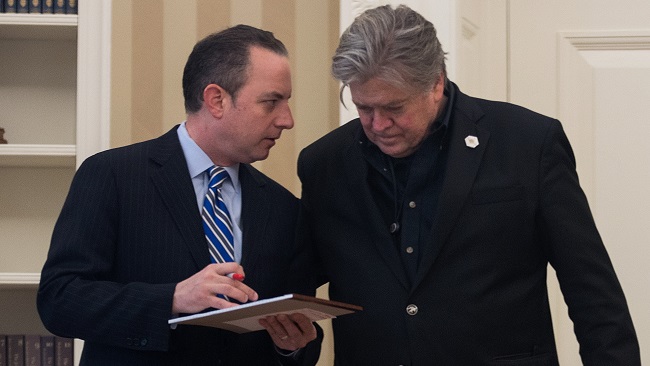 It appears as if the awkward buddy cop movie starring Steve Bannon and Reince Priebus may be nearing an explosive final scene. As President Trump closes in on the 100-day benchmark of the first term of his presidency, a major shakeup of his staff could be on the horizon. Axios is reporting that President Trump is strongly considering voting both White House chief of staff Reince Priebus controversial chief strategist Steve Bannon off White House island.
Both aides are being floated as likely fall-men due to the rocky nature of Trump's first weeks in office, and the "gun fights" that take place within the administration on a daily basis. The report quotes a top aide within the Trump administration as saying that no decision has been made, but everything isn't so peachy within the White House:
"Things are happening, but it's very unclear the president's willing to pull that trigger."
Bannon has been notably perturbed this week following his demotion from the National Security Council's principals committee. Reports are that Bannon and Trump son-in-law Jared Kushner are constantly at odds. Kushner, a longtime left-leaner, and the economic nationalist Bannon were never destined to get along. Now that Kushner's traveling the globe and meeting with various foreign leaders Bannon has reported verged on the boiling point and considered leaving altogether.
For Priebus, the departure would be much more related to job performance, or lack thereof. Priebus himself has had run-ins with Bannon, ones he has dismissed on numerous occasions as 'fake news.' Earlier this month, Politico reported that Priebus was the likely scapegoat for all the troubles Trump has encountered in the infancy of his stay at the White House:
"There's a real frustration among many — including from the president — that things aren't going as smoothly as one had hoped," one of the interviewees told Politico, adding: "Reince, fairly or not, is likely to take the blame and take the fault for that." Others weren't as kind, telling the outlet Priebus' "sheer incompetence" was to blame for the perceived "lack of management, and … strategy."
Axios is also reporting that the possibilities for chief of staff include the following candidates: House Majority Leader Kevin McCarthy (R-Calif.), Wayne Berman of Blackstone Group, David Urban of the Washington advisory firm American Continental Group, and Gary Cohn, Trump's economic adviser.
(Via Axios)