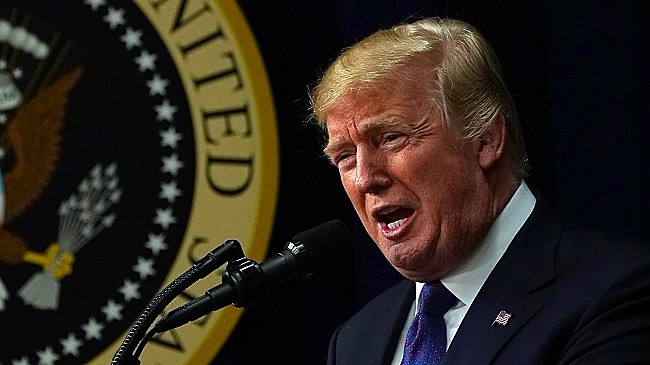 The day after his doctor declared his physical and mental health was "excellent," President Trump touted the scores he received on the mental health exam administered to him as evidence that he could solve the North Korea crisis. Speaking with reporters from Reuters on Wednesday, who just so happened to note the "fresh Diet Coke near at hand on his desk," Trump went on to blame his three immediate presidential predecessors for not doing enough to address the problematic Southeast Asian nation before he came into office.
Per Reuters, whose interview with Trump reportedly lasted 53 minutes, it was the president himself — and not the journalists questioning him — who brought up the previous day's health exam report. That's because instead of digging into the veracity (or lack thereof) of what Dr. Ronny Jackson told the White House Press Corps on Tuesday, they were more concerned about North Korea:
He blamed his three immediate predecessors, Bill Clinton, George W. Bush and Barack Obama, for failing to resolve the crisis and, a day after his doctor gave him a perfect score on a cognitive test, suggested he had the mental acuity to solve it.

"I guess they all realized they were going to have to leave it to a president that scored the highest on tests," he said.
According to Trump, "Russia is not helping us at all with North Korea" and is instead "denting" what the United States and China are attempting to accomplish diplomatically. He also suggested President Vladimir Putin's country was helping North Korea to skirt the latest U.N. sanctions levied against it. However, he did not have anything to say about a new report indicating that Robert Mueller's team is investigating alleged election payments by Russian officials in 2014. Steve Bannon's deal with Mueller's team didn't come up either.
(Via Reuters)