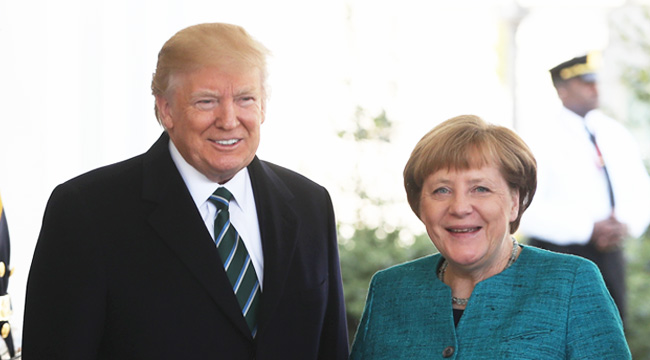 About a week ago — although it seems like much longer, given the ongoing investigation into Russian-Trump ties, the implosion of Trumpcare, and the Neil Gorsuch confirmation hearings — Donald Trump and German Chancellor endured an awkward White House meeting. At one point, Trump seemingly declined to shake Merkel's hand, despite the two enjoying the customary gesture earlier in the day. Now, we're hearing one reason that would explain why Trump wouldn't want to shake Merkel's hand, for the Sunday Times breathlessly reports that Trump may have injected a major NATO-related demand into the diplomatic proceedings.
Supposedly, Trump pulled one of his classic "negotiator" moves at some point during his day with Merkel. In doing so, he reportedly handed her a £300 billion "invoice" (reported in pounds rather than euros or dollars because the Sunday Times is a Brit publication). This would be Trump's attempt to extricate from Germany what he feels is owed to the U.S. for NATO defense. Germany is one of several NATO countries that Trump has criticized for not spending enough on defense, which leads him to believe that the U.S. is paying more to NATO than should be required. So, Trump "charged" what he felt is a fair amount plus interest. In response, Merkel found this to be "outrageous," but she "took it calmly and will not respond to such provocations."
Further, one source told the Sunday Times that Merkel stated, "The alliance is not a club with a membership fee." The Independent has more detail about Trump's calculations:
While the figure presented to the Germans was not revealed by either side, Nato countries pledged in 2014 to spend two per cent of their GDP on defence, something only a handful of nations — including the UK, Greece, Poland and Estonia — currently do. But the bill has been backdated even further to 2002, the year Mrs Merkel's predecessor, Gerhard Schroder, pledged to spend more on defence.

Mr Trump reportedly instructed aides to calculate how much German spending fell below two per cent over the past 12 years, then added interest. Estimates suggest the total came to £300bn, with official figures citing the shortfall to be around £250bn plus £50bn in interest added on.
Lordy. This sounds like something that Trump would do, yes? There's no way of telling what really happened unless the "invoice" surfaces, but this would sort-of explain why Trump was acting like a stubborn toddler over the media-requested handshake. It also makes sense in light of Trump's plan to increase U.S. military spending by $54 billion annually, and that money certainly doesn't grow on Walls! Speaking of which, that U.S.-Mexico border Wall's gonna be expensive, and now that Obamacare will likely stick around, Trump might grow desperate for dollars. He may even send these "invoices" to even more countries. Hey, Daddy's gotta eat his well-done steak.
P.S. Trump's tweets following his meeting with Merkel largely substantiate this report. He nails himself with tweets every time…
(Via Sunday Times & The Independent)