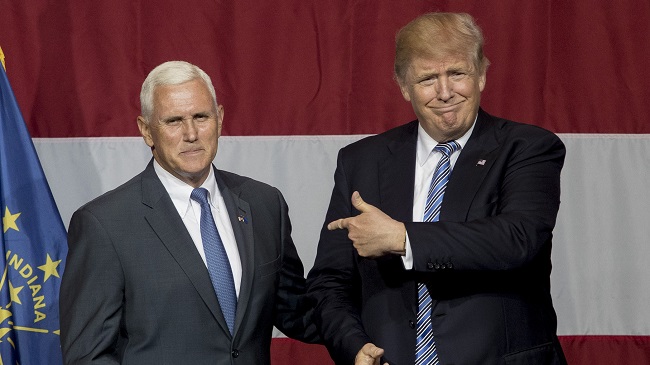 If Donald Trump and his family's Wednesday morning visit to Indiana Governor Mike Pence's residence is any indication, there's a good chance the man favored to be the presumptive Republican nominee's VP pick got the job. Yes, the New York real estate mogul recently told the Wall Street Journal his shortlist still includes Chris Christie, Newt Gingrich and a handful of other seasoned conservative politicians. After Pence's Tuesday night performance at a rally and fundraiser for Trump's campaign, however, it seems the Donald's list is about to get a lot shorter.
According to the Indianapolis Star, Trump acknowledged Pence's fervent five-minute introduction at the event, calling him a "good man." He didn't announce a decision regarding the 57-year-old politician's status on his shortlist, though he did tease the crowd about the prospect: "I don't know if he's going to be your governor or your vice president. Who the hell knows!" Yet Trump's visit to Pence's official residence the next day signaled a more serious outlook on the matter. This was especially the case after reports of who was in attendance, the meeting's duration, and whether or not it went well.
Several reporters embedded with the Trump campaign, including NBC News' Vaughn Hillyard, were on hand when the Donald arrived.
Their arrival reignited the fires of the governor's favored status among the Trump family and their top advisers. However, it wasn't until journalists' calls to sources within Trump and the GOP's rank and file that the precise nature of the meeting was made clear. Mainly that, as CNN's Jim Acosta noted, it went "fabulously."
What's more, the Washington Post's Robert Costa discovered Christie, Gingrich, and other potential VP picks weren't called or told about the Pence meeting. In fact, Gingrich found out about it via the news.
The New Jersey Governor and former Speaker of the House may still be on Trump's final list of running mates, as CNN reported on Tuesday. Yet it seems Pence's rising star just might be the one Trump decides to catch for a spot on the Republican presidential ticket come Friday, when he's expected to announce his decision.
(Via Indianapolis Star)