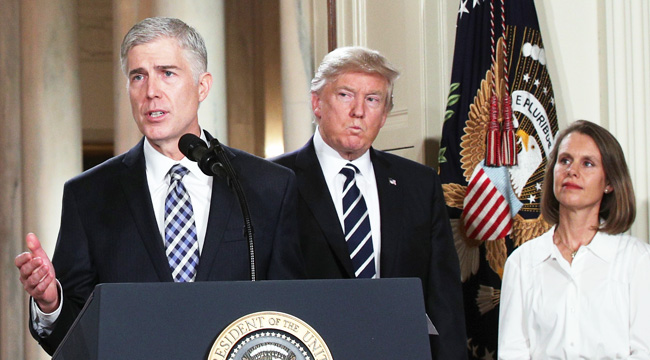 Donald Trump's introduction of his first Supreme Court pick, Neil Gorsuch, largely pleased the GOP's conservative base. His rulings on reproductive rights could indicate that Gorsuch is Trump's down payment on the campaign pledge to overturn Roe v. Wade. However, Gorsuch hasn't arrived without controversy. He apparently started a "Fascism Forever" club at his high school — who does that? — and now, his stated history in volunteer work isn't checking out entirely well.
The Wall Street Journal has the lowdown on the discrepancy, which revolves around pro bono work that Gorsuch claimed to have done while attending Harvard Law School. Trump alluded to this work for "the less fortunate" while introducing his selection, but WSJ spoke to dozens of Gorsuch's former classmates — those who did participate in organizations listed by Gorsuch — who questioned his participation:
When President Donald Trump introduced his Supreme Court pick on live television last week, he said Neil Gorsuch had 'demonstrated a commitment to helping the less fortunate' by working in the Harvard Prison Legal Assistance Project and the Harvard Defenders. His affiliation with these volunteer programs — which offer law school students real-life legal experience representing prison inmates and the poor — helped give Mr. Gorsuch's deeply conservative resume a personal touch, and the groups were highlighted in news reports about his nomination.

But roughly three dozen students who participated in the two programs while Mr. Gorsuch was at Harvard Law School from 1988 to 1991 said they have no recollection of his involvement.
The Daily Beast has more, including one Harvard Law alum who stated, "If he was active in PLAP, I am sure I would remember him." However, the WSJ was able to contact one of Gorsuch's classmates, whose name was issued by the White House, to gain slight confirmation of some volunteer work. This person simply stated, "I have a specific recollection of talking to him about one case, but I don't want to get into the details."
(Via Wall Street Journal & Daily Beast)