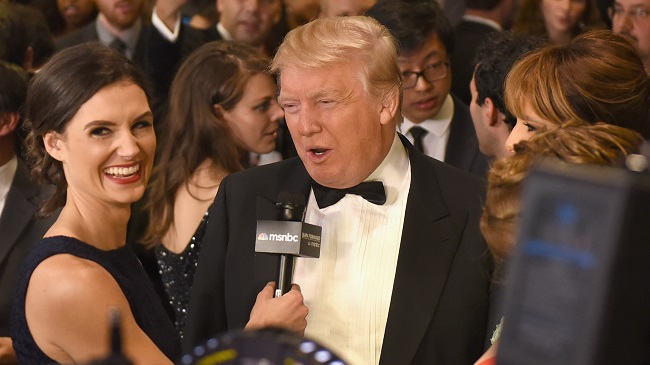 In news that should come as a surprise to no one, the White House Correspondents' Association announced on Friday that President Trump would not be attending this year's annual dinner. The president echoed the news in a separate, pre-recorded radio show interview, during which he said he "probably" won't attend the gathering, which he also described as "so bad and so fake." When he skipped last year's event, Trump instead attended a campaign-style rally in Pennsylvania, but whether or not he'll be doing the same this year remains to be seen.
In a statement, the White House Correspondents' Association said they were "informed… that the president does not plan to participate in this year's dinner but that he will actively encourage members of the executive branch to attend and join us as we celebrate the First Amendment." What's more, per the annual event's "tradition," the current press secretary will represent Trump's administration at the event and be seated at the head table.
During his pre-recorded segment for Bernie & Sid in the Morning on 77 WABC, however, Trump's comments about the dinner were less than kind. "It's unlikely I will do the White House Correspondents dinner this year," he told the hosts before launching into a characteristic attack on the news media, which he called "so bad and so fake." Not that any of this matters, though, for this year's host, comedian Michelle Wolf should have no problem doing her thing on Saturday, April 28th.