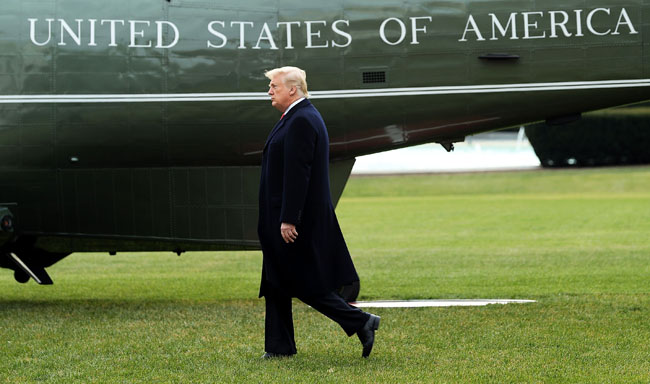 Donald Trump gave an impromptu, off-the-cuff interview with New York Times reporter Michael Schmidt on Thursday from the Grill Room of his Trump International Golf Club in West Palm Beach. During the 30-minute-long chat, the president rambled freely about the Russia investigation (of which he remarked there was "no collusion" 16 times), why the media "has to let him win" in 2020, and the incorrect assertion that he controls the Justice Department, among other topics.
Pull quotes from the interview — of which no aides were present for — quickly began making headlines, and it should come as little shock that the White House staff was not pleased. According to the Washington Post, as soon as word got back to Trump's advisers, a personal aide was instructed to interrupt the interview with a call from communications director Hope Hicks — with one "frustrated" aide reportedly calling the interview "embarrassing."
The interview is apparently just a symptom of a larger problem, however. Schmidt supposedly was able to gain access while dining at the club with another member who has personal access to Trump — who had just come from the course and was still wearing his golf clothes — which is why the White House was so blindsided.
"At Mar-a-Lago, anyone who can get within eyesight changes the game," said a former White House official, speaking on the condition of anonymity to candidly discuss a sensitive subject, and referring to club members and guests who sometimes try the influence the president on policy, share an opinion on his administration or simply say hello. "Everyone who is angling for something knows to be there."
Former Trump campaign adviser Roger Stone likewise told the Post that Mar-a-Lago allows "Trump to be Trump," and that unlike in Washington, there's no one to tell him what to do. "The president is able to get a lot of information that is normally blocked from getting to him. . . . You don't have the minders. There is no doubt that he makes more calls."
(Via the Washington Post)