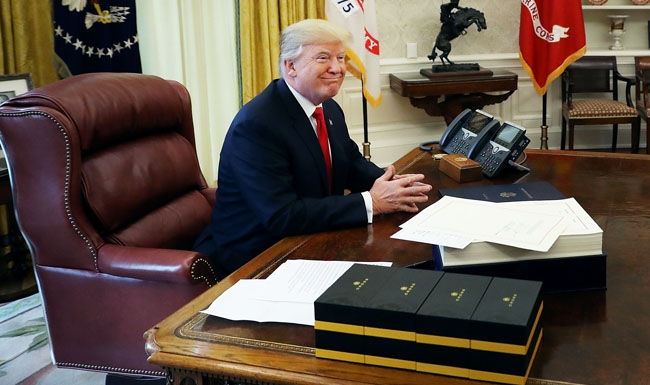 On Thursday, after playing a round of golf at his Trump International Golf Club in West Palm Beach, Donald Trump sat down with New York Times reporter Michael S. Schmidt for a spontaneous, off-the-cuff interview from a table at the club's Grill Room, within earshot of other diners. During the 30-minute-long chat, Trump spoke on a number of topics, but was especially focused on the ongoing Russia investigation being conducted by special counsel Robert Mueller, which he confidently feels will turn up nothing.
The president apparently insisted 16 separate times that there had been "no collusion" found in the inquiry, and incorrectly asserted that he has "absolute right" to do whatever he wants with the Justice Department. Speaking about the investigation, Trump claimed, "It makes the country look very bad, and it puts the country in a very bad position. So the sooner it's worked out, the better it is for the country."
At one point, the president turned his attention towards his favorite topic, the media — with one particularly disturbing thought about the 2020 presidential election.
"Another reason that I'm going to win another four years is because newspapers, television, all forms of media will tank if I'm not there because without me, their ratings are going down the tubes," Mr. Trump said, then invoked one of his preferred insults. "Without me, The New York Times will indeed be not the failing New York Times, but the failed New York Times."

He added: "So they basically have to let me win. And eventually, probably six months before the election, they'll be loving me because they're saying, 'Please, please, don't lose Donald Trump.' O.K."
The Times also published full excerpts of the interview for that full Trump effect, and the ensuing madness went over on Twitter about as well as you'd think.
Just another day in the Twilight Zone.
(Via the New York Times)