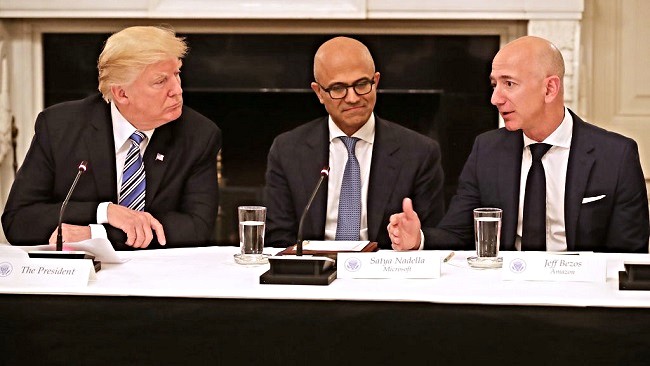 Facebook CEO Mark Zuckerberg may have agreed to testify before members of Congress, but that doesn't mean the social media giant's trouble are over. Even so, according to a new report by Axios, President Trump isn't too concerned about Facebook's ongoing Cambridge Analytica scandal and its ties to his victory in the 2016 election. Instead, the president is far more concerned with Amazon and its founder, Jeff Bezos. In fact, a source with knowledge on the matter even went so far as to say Trump was "obsessed" with taking the company down.
"He's obsessed with Amazon," the source, who claims to have spoken directly with the president, told Axios. "He's wondered aloud if there may be any way to go after Amazon with antitrust or competition law." The main thrust of Trump's ideas about the company comes from his "wealthy friends," who "tell him Amazon is destroying their businesses." These unknown, unofficial advisers are telling Trump "that Amazon is killing shopping malls and brick-and-mortar retailers," and it sounds like he's beginning to agree with them — especially when it comes to the U.S. Postal Service's "cushy treatment" of them.
"The whole post office thing, that's very much a perception he has," another source familiar with the matter told Axios. "It's been explained to him in multiple meetings that his perception is inaccurate and that the post office actually makes a ton of money from Amazon." Despite his official staff's best efforts to clarify the situation to him, however, it seems President Trump isn't budging on his opinion about Amazon and its founder. Axios notes that he doesn't actually have a plan in place to do anything, however, though Business Insider adds that a Supreme Court cast regarding the collection of online sales tax might figure in.
(Via Axios and Business Insider)