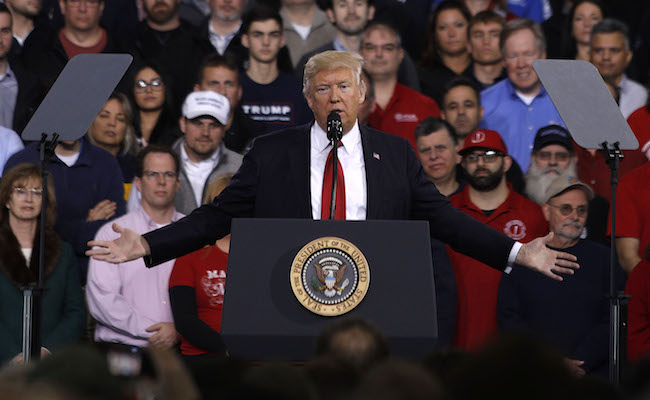 President Trump's budget vision will reportedly include some big cuts for the Environmental Protection Agency and State Department when it arrives.
According to The New York Times, the budget outline for the new fiscal year will see both the EPA and State Dept. undergo sizeable slashing. Namely, a 31 percent cut for the rapidly changing Trump-era EPA and a 28 percent cut for the State Department. It's a forecast that will make supporters of federal programs increasingly nervous about what's to come and advocates for reduced government swoon.
As is his custom, expect something more message-based than detail-based when the budget outline arrives on Thursday. NYT reports that Trump will serve up a "broad political statement" instead of something more exact.
The plan to be released at 7 a.m. tomorrow is a "skinny budget," a pared-down first draft of the line-by-line appropriations request submitted by first-term administrations during their first few months. A broader budget will be released later in the spring that will include Mr. Trump's proposals for taxation as well as the bulk of government spending — Social Security, Medicare, Medicaid and other entitlement programs.

Mr. Trump's version is likely to be even skinnier than usual, a result of the chaos, inexperience and staffing problems encountered by the Trump White House over the first two months.
It's not unreasonable to expect there will be pushback to Trump's spending/slashing vision. His approach to health care and travel (for starters) has found critics even within his own party and the expectation of looming cuts to public education and community program funding aren't likely to curb that tension.
(Via New York Times)