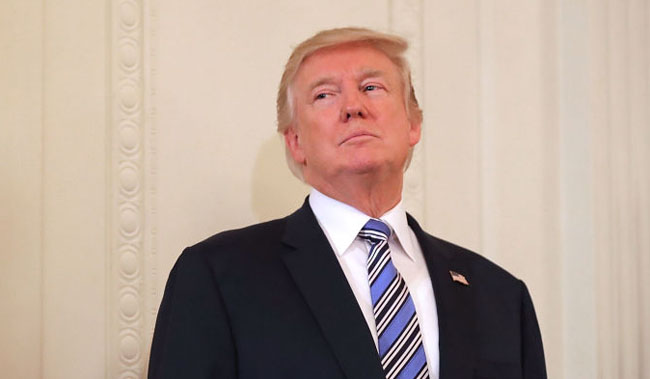 President Trump has now reportedly set his team in motion to stifle and smear former FBI director Robert Mueller's investigation into Russian collusion, even allegedly asking advisors about his power to pardon individuals, including aides, family members, and even himself. This follows Wednesday's New York Times interview where Trump alleged that Mueller may have conflicts that could affect his investigation, threatening that there was more he could share on the special counsel.
The central allegation by Trump is that Mueller was in line to be fired FBI director James Comey's replacement, sitting for an interview with the president. The New York Times indicates that Trump did not reveal how this would constitute a conflict, but it seems to be the starting point for Team Trump to begin digging at ways to limit Mueller's investigation. There are also reported Democratic party donations to Mueller's prosecution team and an alleged history with the president's golf course in Northern Virginia. Trump advisors are reportedly currently sifting through documents and history for anything they can use to derail the investigation, even slightly according to The New York Times:
The search for potential conflicts is wide-ranging. It includes scrutinizing donations to Democratic candidates, investigators' past clients and Mr. Mueller's relationship with James B. Comey, whose firing as F.B.I. director is part of the special counsel's investigation.

The effort to investigate the investigators is another sign of a looming showdown between Mr. Trump and Mr. Mueller, who has assembled a team of high-powered prosecutors and agents to examine whether any of Mr. Trump's advisers aided Russia's campaign to disrupt last year's presidential election.
As The Times adds, this is a similar tactic to one used by the Clinton administration during the Ken Starr investigation that spun out of the Monica Lewinsky scandal. This effort also seems to stem from a report by Bloomberg that Mueller will be expanding his investigation to look into Trump's business dealings. The Washington Post reports that Mueller would have access to years of Trump's "dealmaking" and several years of his tax returns, prompting Trump laywer Jay Sekulow to hit at the report and set a strategy for how the administration would handle Mueller's wandering eye:
"The fact is that the president is concerned about conflicts that exist within the special counsel's office and any changes in the scope of the investigation," Sekulow said. "The scope is going to have to stay within his mandate. If there's drifting, we're going to object…

"They're talking about real estate transactions in Palm Beach several years ago. In our view, this is far outside the scope of a legitimate investigation."
The Post claims that the Trump admin could protest these expansions by questioning if they were "directly" related to an inquiry into collusion with Russia or another nation. Whether they will do this or if it is just posturing remains to be seen, but the president has long called the investigation a "witch hunt" and could seek to prove just that. However, another tidbit in the Post report indicates that Trump and his administration are at least a little worried that something could drop from Mueller's investigation. According to the Post, the president has asked about his power to pardon and how far it could reach regarding the Russia investigation:
Trump has asked his advisers about his power to pardon aides, family members and even himself in connection with the probe, according to one of those people. A second person said Trump's lawyers have been discussing the president's pardoning powers among themselves.
One advisor told The Post that the president was only showing "curiosity" in the scope of his powers and that it was not a moment where Trump was saying, "I can't wait to pardon myself." It does create a confusing image for the president and his staff, though, and conflicts with the tough language being shared in relation to Mueller's expanding investigation. If anything, the president's "curiosity" raises some "curiosity" of its own in the minds of people already questioning how deep Russia's connections do go.