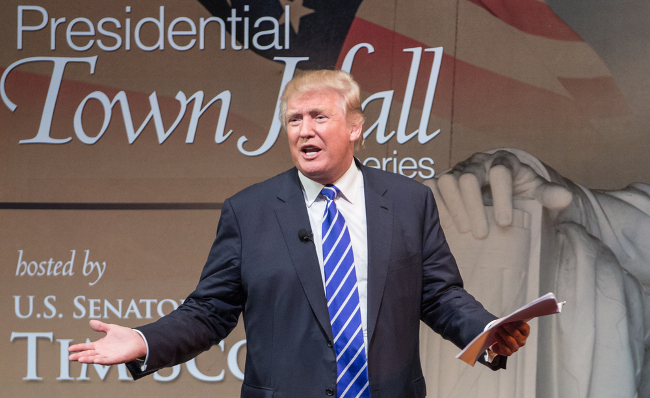 Over the last week, much of Washington has been abuzz as Trump's personal attorney, Michael Cohen, has desperately been fighting the story that he delivered a "pro-Russia" peace deal to end the war in the Ukraine directly to former National Security Advisor Michael Flynn. Flynn resigned over revelations he'd inappropriately discussed affairs with members of the Russian government and lied about them to the FBI and Vice President Mike Pence, and it quickly became known that Andriy Artemenko, the Ukrainian politician who drafted the deal, was under investigation for treason. And now Artemenko has another twist to the story on offer.
Artemenko, speaking to CNN, has filled in a few blanks, at least allegedly. He claims that he met Cohen through mutual acquaintance Felix Sater, who has a colorful past, and that he wasn't trying to draft a peace deal, simply talking politics with buddies:
He said of the January meeting that Sater invited Cohen to "a dinner in the hotel in Manhattan, and we probably spoke around 20-25 minutes, where I presented my intentions, my peace plan for the Ukraine, how we can stop the war, how we can stop the killing…It was Michael Cohen's idea. He [Cohen] mentioned his name first in my meetings. And he said 'listen, Michael Flynn' — from his personal opinion — 'is most powerful man who can really support this idea, who can support, who can help you, who can provide this information to President Trump.'"
As we've noted previously, the "peace plan" would withdraw Russian support for the Ukrainian separatists currently occupying parts of the country in exchange for a lease of the Crimea and its oil rights. That would also mean that sanctions against Russia imposed over its actions in the Ukraine would be lifted.
It's fair to be skeptical that Artemenko's version of events is entirely correct. After all, he's facing at least a decade in jail if he's convicted of working against the Ukraine on a deal that heavily favors Russian interests, so for him, much rests on the idea that Cohen was the motivating force behind this. Still, now Cohen finds himself with yet another interpretation of events, in addition to the conflicting stories he's provided to the media, and the questions against him are mounting.
(via CNN)