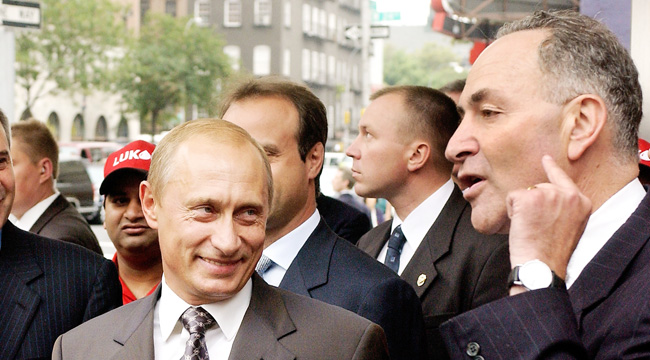 The above photo shows Senator Chuck Schumer and Vladimir Putin openly walking the streets of New York City in 2003. The occasion was the grand opening of a Lukoil gasoline station (representing Russia's largest oil company) in Chelsea, and Schumer was doing diplomatic necessities. A bunch of right-wing sites (including Drudge Report) resurrected a different photo of the two men last night. Trump saw it and couldn't resist. He was apparently jonesing for vengeance after Schumer called for Attorney General Jeff Sessions' resignation over his meetings with the Russian ambassador and those possible lies under oath, too.
By the way, Trump is back on Twitter, although he took a break after his teleprompted joint address to Congress that made Van Jones swoon, but whether this break was intentional or not is anyone's guess. On Thursday, his account posted a series of fake-sounding tweets (about Jeff Sessions) that sounded a lot like Kellyanne Conway, who was likely trying to prolong her boss' good vibrations.
Trump must have figured out his password again, or whatever, because he tweeted the old newspaper photo of Putin and Schumer enjoying coffee and donuts together. For real, Trump wants "an immediate investigation" and called Schumer "a total hypocrite" over these "ties to Russia and Putin."
Schumer fired back to remind Trump that, unlike some Trump associates, he only met with Putin in "full view of the press and public."
And Schumer jabbed one more time for extra measure.
Clearly, Trump's reaching here — and he also tweeted a demand to investigate Nancy Pelosi for a similar public meeting with the Russian ambassador — but he's still so bloody angry every time someone the media publishes anything about his administration and Russia. Even though the Washington Post story about Sessions' meetings with Sergei Kislyak came from Justice Department officials, Trump's still wildly lashing out, this time with a photo involving coffee and donuts. So weird.
Since we're talking about Trump and Twitter, it's worth mentioning that he finds it "pathetic" that Democrats still haven't approved his entire cabinet.
However, the Washington Post is on the case (again!) to point out that not only is Trump trucking along at the same pace as Obama for cabinet approval, the current president still hasn't completed paperwork for at least two nominees. Ouch.
(Via Donald Trump on Twitter, Chuck Schumer on Twitter & Washington Post)