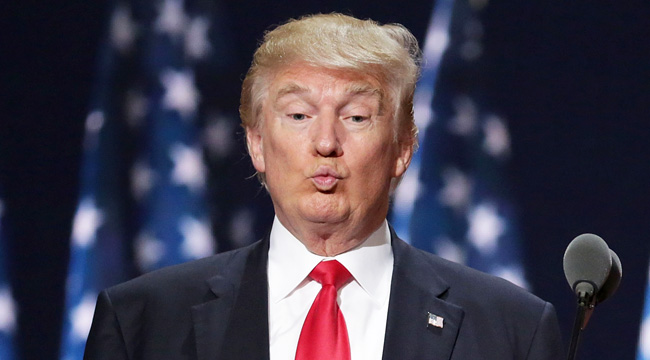 President Trump's first foreign visit, which will either prove his mettle or turn into an epic disaster, is upon us. He's notorious homebody who's set in his ways and prefers to leap only from White House to airplane to Mar-a-Lago, and his foreign policy expertise leaves much to be desired. Reports have already surfaced about how NATO has figuratively child-proofed the room by advising heads of state to aim for short speeches and avoid intricate policy discussions. And of course, more stories are flowing!
The silliest detail (and there are several) out there right now is that Saudi Arabia has agreed to accommodate Trump's favorite meal (extremely well-done steak with ketchup) alongside their spread of local cuisine:
Trump's hosts on his upcoming trip are well-aware of his aversion to travel and are trying to make accommodations to keep him happy.

In Saudi Arabia, people with knowledge of the planning for Trump's trip say the caterers are planning to offer the president steak and ketchup alongside the lamb and hefty portions of rice on the menu. All the meat will have been butchered in a Shariah-compliant halal manner as per Islamic custom.
Otherwise, Trump's hosts worked to block out his required "daily downtime" (which probably involves watching Fox News and shouting at MSNBC), and foreign leaders don't want to cause any more conflict after Trump canceled a speech in Israel at the historic mountain fortress of Masada. He did so simply because he can't land his helicopter atop the site and refuses to ride up by cable car (like Bill Clinton and George W. Bush did).
So, what other methods will foreign leaders use to avoid more cancellations or tantrums? They'll treat him like a child, essentially. Here are the rules that have emerged, according to the New York Times:
Keep it short — no 30-minute monologue for a 30-second attention span. Do not assume he knows the history of the country or its major points of contention. Compliment him on his Electoral College victory. Contrast him favorably with President Barack Obama. Do not get hung up on whatever was said during the campaign. Stay in regular touch. Do not go in with a shopping list but bring some sort of deal he can call a victory.
There's a real possibility that Air Force One is currently stocked with electoral maps (maybe even of the laminated variety) that Trump can hand out as souvenirs. And even though he's only four months into a term, he wants to be contrasted in a positive way to Obama. Further, these heads of state have reportedly been tipped off on how how obsessed Trump is with winning, so they could be predisposed to mislead him, in a sense — by making him believe he's scoring victories for America, even if that isn't the case.
Are you stocked up with popcorn yet?
(Via New York Times, Associated Press & Newsweek)