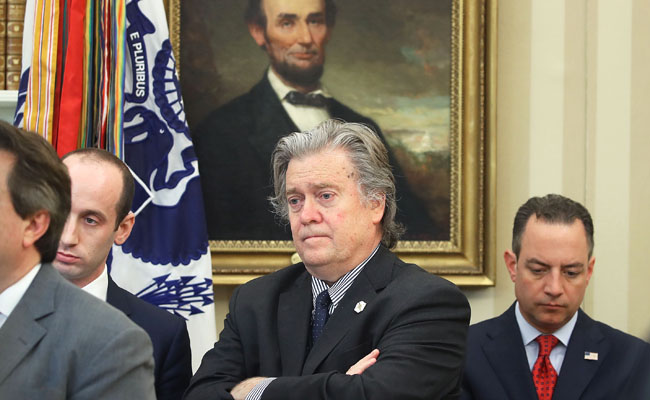 Well if it wasn't before, it's safe to say that the bromance between Donald Trump and Steve Bannon is officially over. Things have been on tenuous ground since Bannon was ousted from the White House back in August, but tempers really came to a head this week when excerpts of Michael Wolff's upcoming Fire and Fury: Inside the Trump White House tell-all were released, which caused Trump to lash out at his former chief strategist and send a cease and desist order from his legal team.
Now, a bizarre new twist lends some insight into the relationship between the two men. Politico White House reporter Eliana Johnson tweeted Thursday morning about Trump's alleged reaction to when a prior domestic abuse allegation against Bannon was unearthed back in August of 2016, shortly after being named Trump's campaign CEO. Johnson wrote that apparently — as he is wont to do — Trump nicknamed Bannon "Bam Bam" for allegedly assaulting his ex-wife back in 1996.
Bannon was accused by his then-wife Mary Louise Piccard of grabbing her neck and wrist during a fight about money. An officer who was called to the scene observed red marks on Piccard's neck which corroborated her story. Piccard subsequently pressed charges which were eventually dropped when she failed to show up to her court date. At any rate, Trump's alleged cavalier attitude towards domestic abuse is nothing if not disturbing.