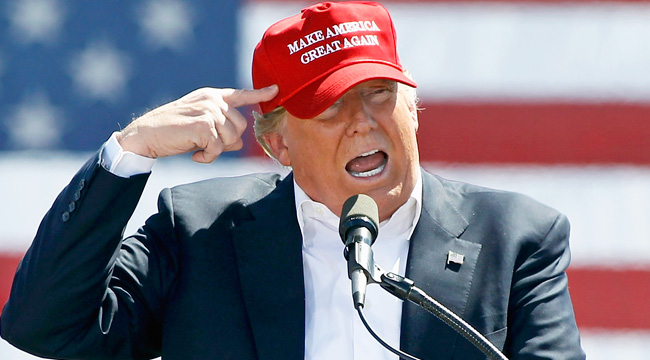 President Trump isn't going to like this comparison any more than that unflattering Newsweek cover — a former official of the Mexican government described Trump as "the opposite of Teddy Roosevelt" after a transcript of Trump's January phone call with Mexican president, Enrique Peña Nieto, was published by the Washington Post. That might not sound so bad except for what followed the reference to our twenty sixth president. The official clarified of Trump's difference from Roosevelt, "He speaks loudly and carries a small stick."
It's a quip sure to rankle a man who has spent decades bristling over references to his small hands. Worst of all, reports suggest the diplomatic community has seized on the Trump transcripts and is finding great humor in the President's blundering and erroneous comments on everything from the "local milk people" of Australia to his insistence he won New Hampshire in the election (he didn't) because it's hooked on heroin. "Everyone I've spoken to around the world is laughing," said Jorge Guajardo, one of Mexican's most eminent foreign policy officials.
The comment about speaking loudly wasn't just another way of saying Trump is all bark and no bite. In referencing Roosevelt, the quip higlighted Trump's struggles, not only with diplomacy but with his whole agenda. Roosevelt and Trump might have had some similarities in their backgrounds and temperaments but are quite different on major issues. The Roosevelt who pushed for environmental conservation, corporate regulation, and bigger government stands in marked contrast to Trump's exit from the Paris Climate Accord, slapdash attempts at making deals with major corporations, and gutting of numerous government departments. Most notably, that's included the State Department, which is in charge of foreign policy.
The transcripts weren't totally humiliating, however, at least for President Nieto. As one foreign policy expert said of the exchange, "This clearly gives it the full flavor of what Mexico has been dealing with."
(Via McClatchy)