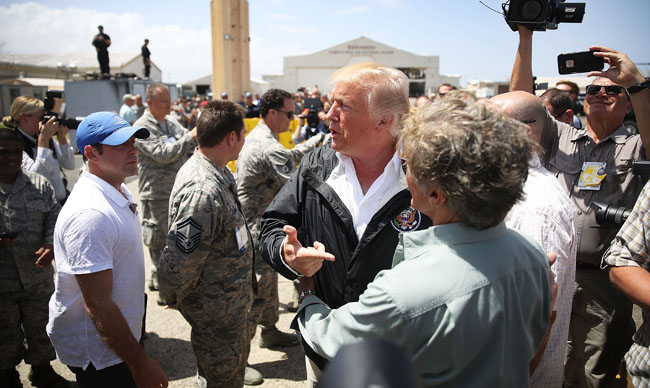 Politico conducted an independent investigation comparing President Trump's response to Hurricane Harvey in Houston in August of 2017 and Hurricane Maria in Puerto Rico one month later, and found unequivocally that the relief effort in Texas was favored over the United States territory. The findings should come as a surprise to few, given everything from Trump's fervent obsession with black athletes taking a knee during the national anthem as the disaster in Puerto Rico was literally unfolding, to his feud with San Juan Mayor Carmen Yulín Cruz — not to mention his tenuous grasp with actually knowing where Puerto Rico was in the first place.
Retired Army Lt. Gen. Russel Honoré, who led relief efforts in the wake of Hurricane Katrina told the publication that the United States has Army and Marine Corps that can go anywhere, anytime they want in the world, but in the case of Puerto Rico, "We didn't use those assets the way they should have been used." This comes on top of the recent news that FEMA ignored frantic requests for aid from Puerto Rican officials in the immediate aftermath of the disaster.
Indeed, a breakdown of public documents and newly obtained FEMA records by Politico reveal a staggering schism in how resources were provided to Houston versus Puerto Rico:
Within six days of Hurricane Harvey, U.S. Northern Command had deployed 73 helicopters over Houston, which are critical for saving victims and delivering emergency supplies. It took at least three weeks after Maria before it had more than 70 helicopters flying above Puerto Rico.

Nine days after the respective hurricanes, FEMA had approved $141.8 million in individual assistance to Harvey victims, versus just $6.2 million for Maria victims.

During the first nine days after Harvey, FEMA provided 5.1 million meals, 4.5 million liters of water and over 20,000 tarps to Houston; but in the same period, it delivered just 1.6 million meals, 2.8 million liters of water and roughly 5,000 tarps to Puerto Rico.

Nine days after Harvey, the federal government had 30,000 personnel in the Houston region, compared with 10,000 at the same point after Maria.

It took just 10 days for FEMA to approve permanent disaster work for Texas, compared with 43 days for Puerto Rico.

Seventy-eight days after each hurricane, FEMA had approved 39 percent of federal applications for relief from victims of Harvey, versus 28 percent for Maria.
In addition to the allocating of relief efforts, Trump himself outwardly showed more support for Houston than Puerto Rico. The president visited Texas twice in the first eight days of the crisis, but he took a full 13 days before making it out to Puerto Rico to awkwardly huck rolls of paper towels at survivors.
You can read the full, damning report here.
(Via Politico)