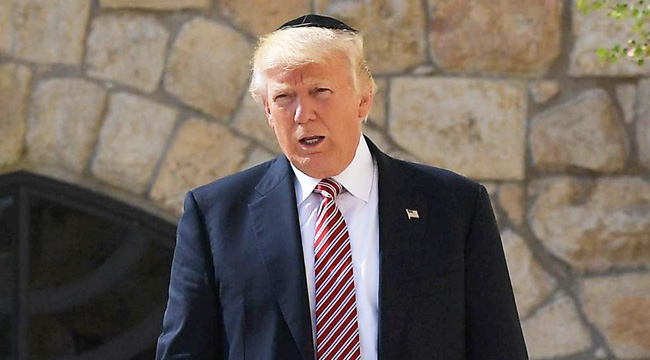 Among the many controversial things President Trump has said and done during his first year in office, perhaps the most hotly contested on an international scale was his recent decision to recognize Jerusalem as Israel's capital. The massive shift from previous administration's recognition of Tel Aviv as the country's capital city has sparked protests throughout the Middle East, as well as broad condemnation from the United Nations. Even so, Trump's announcement made good on one of many problematic campaign promises he made during the 2016 presidential election, and he won't be changing his mind anytime soon.
According to The Jerusalem Post and the Associated Press, the Israeli government is so happy about Trump's decision, its transportation minister has made a startling announcement. On Wednesday, Yisrael Katz declared the American president's namesake would be used at the Western Wall for… a train station:
"The Western Wall is the holiest place for the Jewish people, and I decided to name the train station that leads to it after president Trump — following his historic and brave decision to recognize Jerusalem as the capital of the State of Israel."
Yes, that's right… a train station. Trump Station, to be exact. Per the AP, the station will mark the end of a new construction project involving "a railway tunnel under Jerusalem's Old City, passing near sites holy to Jews, Christians and Muslims — and ending at the Western Wall." The plan is to "extend Jerusalem's soon-to-open high-speed rail line from Tel Aviv to… the holiest site where Jews can pray." As a whole, Katz's proposal is expected to meet with "heavy resistance" from Palestinians due to the tunnels' proximity to contested holy sites in the Old City. Trump Station will likely garner a similar response.
(Via The Jerusalem Post and Associated Press)