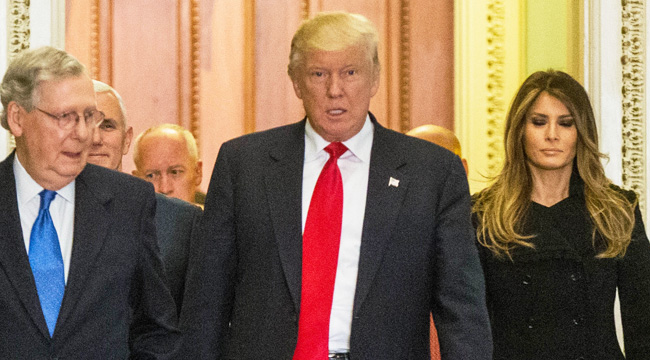 Donald Trump did not happily greet Tuesday evening's reports of his transition spiraling into chaos while losing a top national security advisor. The turn of events also included a statement that the transition was already a full month behind schedule, but Trump quickly took to Twitter to deny everything but a "very organized process." He tried to make it seem like he was simply being secretive about his cabinet "finalists."
Then Trump must have stewed for several hours because, sure enough, he rallied for another one of his famous, 3:00am Twitter sessions. He insulted the New York Times for their report on his transition turmoil and tweeted, "It is going so smoothly." He argued that he's in communication with many foreign leaders and that the NY Times is full of "fools."
The NY Times continues to report on Trump's disorganized method of planning a presidency, including how the transition team is operating out of Trump Tower with no contact where it matters most. As in, the team hasn't been in touch with the State Department or Pentagon or even the DOJ:
In the flag-bedecked lobby of the State Department, next to the main reception desk, there is a sign that says "Transition." It has been quiet. The State Department confirms that, like the Pentagon and the Justice Department, it has not heard from anyone on President-elect Trump's team, a week after the election. "We have not been contacted," said John Kirby, the State Department press secretary.
The Washington Post confirms that contact hasn't been established, but the transition team is thinking maybe it should happen by Friday. Tick tock. Meanwhile, CNN has been relaying more chaos, including how Ivanka's husband, Jared Kushner, is raising hell as the "center of infighting."

There's even more from the NY Times, including how the Obama administration is kinda wondering why Trump's team isn't making contact, and no one has asked for briefings ahead of Trump's supposed first meeting with a world leader on Thursday:
Officials in Mr. Obama's administration said on Wednesday that they were ready to engage with Mr. Trump's team. But they said little contact had been made. At the State Department, officials said that no one from the transition office had requested briefings ahead of Mr. Trump's meeting on Thursday with Shinzo Abe, the prime minister of Japan.

"We stand ready to support him and his team with any information that they might require," said John Kirby, the State Department spokesman. "There has been no outreach to date," Mr. Kirby added.
The meeting is happening on Thursday with, of course, Japanese Prime Minister Shinzo Abe, but things aren't going according to plan because there is no plan at all, per the Huffington Post. No time, no place:
Uncertainty over the talks shows the difficulties in turning Trump from a freewheeling businessman into a sitting president with a watertight schedule and a fully functioning administration by his inauguration on Jan. 20.

Japanese and U.S. officials said on Wednesday the State Department had not been involved in planning the meeting, leaving the logistical and protocol details that normally would be settled far in advance still to be determined. "There has been a lot of confusion," said one Japanese official.
Well, the meeting will probably take place at Trump Tower, right? That's just a guess, but CNN reports that Abe requested a "first word" with Trump to "build trust," which is necessary despite the good relations between Japan and President Obama, who recently visited the Hiroshima Memorial and called for nuclear disarmament. In contrast, Trump has wildly suggested that Japan arm itself with nukes to protect itself from North Korea. All of this is geared towards Trump's desire to withdraw U.S. military troops from both Japan and South Korea to save money. No wonder Abe wants to talk.
(Via New York Times, Washington Post, Huffington Post, CNN)