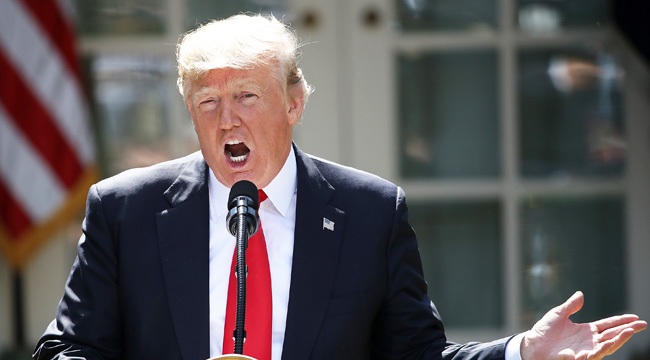 President Trump hasn't even let the dust settle after withdrawing the U.S. from the Paris Climate Accord. Neither a trolling session from the Weather Channel nor criticism from waves of world leaders could prompt Trump to take a night off from controversy. Instead, he's already got his eyes on the next prize — reviving his revised travel ban after the 4th Circuit Court of Appeals ruled against reinstating it last week.
Trump's revised ban is a lot like his old one, which was killed by the Ninth Circuit in early February. The "softened" new version zeroed in on six Muslim majority countries — Iran, Libya, Somalia, Sudan, Syria, and Yemen — with visa limits and the blockage of refugees. Two federal courts imposed a nationwide freezing of the ban, and the Fourth Circuit ruled that Trump's executive order was likely unconstitutional because it discriminated on the basis of religion. Yet the Trump administration feels that it has a shot with SCOTUS for reasons of national security, so Trump has appealed.
The administration would like the court to let the ban take effect immediately via an emergency request that could be answered within a week. Then SCOTUS would decide whether or not to hear Trump's appeal. Via CNN:
"We have asked the Supreme Court to hear this important case and are confident that President Trump's executive order is well within his lawful authority to keep the Nation safe and protect our communities from terrorism," said Justice Department spokesperson Sarah Isgur Flores.

"The President is not required to admit people from countries that sponsor or shelter terrorism, until he determines that they can be properly vetted and do not pose a security risk to the United States."
Back in early February, Trump reacted to the stalling of his first Muslim ban by threatening the Ninth Circuit with a "SEE YOU IN COURT, THE SECURITY OF OUR NATION IS AT STAKE!"
Yet the White House ultimately decided to prevail with a somewhat cooler head and try for a second ban. And after being confronted with a second shutdown, Trump really will try to see the court "in court." The question remains, however, whether SCOTUS will hear the case at all, but given that the request is coming from the federal government, it's likely to happen.
(Via CNN)